APRIL 20, 2009
Check it out: Grand Canyon trip pictures & commentary from 4/11 to 4/20
Back to Ohio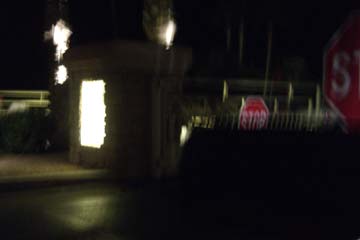 This is becoming all too familiar: set the alarm early (today, 4 a.m.), get up, get on the move. Our flight was at 8:47, so leaving at 4:40 seemed plenty early for a "two hour" drive to the Phoenix airport. I worried about being bored as we waited for departure. Hah!
We left Quail Creek via a strangely wide-open gate, seen here in a hurried shot through the car window. Yesterday when we drove to a nearby state park Ed had to wait until the gate opened to leave.
Whatever. We were on the road well before dawn. Traffic was very light and we had no trouble finding the on-ramp to I-19. We stopped for coffee at a McDonald's and waited, and waited, and waited while they tried to fix a balky orange juice machine. Finally back on the road we continued our cruise to Phoenix.
We were well past two hours and the airport was nowhere in sight. Kept driving until we could see planes taking off in the distance, then stopped to fill the tank of the rental car. Back on the highway once more we hit early rush hour traffic that slowed everything to about 35 mph. I was getting a little worried. Finally the first "Sky Harbor Airport - Rental Car Return" sign appeared and I unclenched my fists on the steering wheel.
A few more delays, a long security line, and I was behind Joanne, jogging in my stocking feet to Gate A26. Breathless I waved my boarding pass at the worker who bemusedly motioned for me to sit down and wait. Everything had moved quicker in reality than in my mind, and we were there a half hour before the flight. Not exactly early, but still time to spare.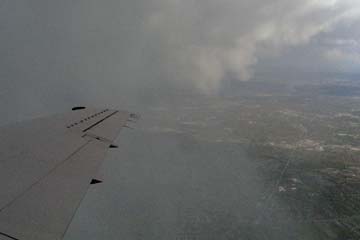 The rest was uneventful. Flight to St. Louis, each of us in a middle seat on opposite sides of the plane. Three hours in the airport, then a shorter flight to Cleveland. Arrived at 8:30 p.m. on a chilly, wet Cleveland night.
We hoisted our big packs for the last time and went outside to wait for Danny to arrive and take us home.
Top | |