JANUARY 13, 2009
Snow day
Jared & I walked to Wendy Park and through it to the Cuyahoga River. It makes you sad to see the deteriorating shell of the old Coast Guard station at the mouth of the river, falling to pieces before your eyes. I hope plan to restore it to its former glory get funded in time to save it from complete collapse.
The near white-out conditions that blew in with a snow squall from the northwest gave the landscape a stark wintery beauty that more than made up for the stinging pellets of ice that peppered our faces on the walk back.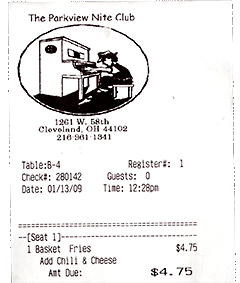 We walked back via West 58th and stopped for lunch at the Parkview. After all my talk yesterday about eating right. the big basket of chili cheese fries might seem a bit out of line, but hey, nobody's perfect.
I also ordered a salad, figuring the two cancelled each other out like offsetting penalties in football.
Top | |