JANUARY 30, 2009
Blues at the Parkview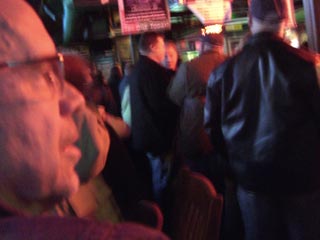 The Parkview was jammed tonight. More people than for the Ohio State bowl game earlier this month, and more than the inauguration.
It was a fundraiser concert to help send Kristine Jackson and Austin "Walking Cane" Charangat to Memphis for the International Blues Challenge. For ten bucks we got a CD, and added another five to enter the 50/50 raffle (didn't win, though).
The music was good—favorites from the KJ and Austin songbooks—and it was non-stop from 9:45 to 12:15. Things were winding down when we left at 12:30.
I re-introduced myself to Mike of Mike's Barn, yet another of NE Ohio's best-kept secrets. The Barn is literally a barn where Mike stage weekly blues concerts every summer. Informal, low-key, BYOB and great music. This summer Tom Waits will be there in August. Hope to get to that one.
Top | |