MARCH 30, 2009
More choices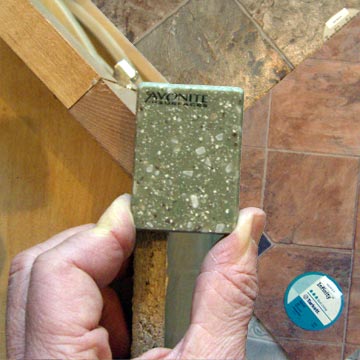 As the kitchen starts to come together we're making still more decisions as we go. We never had a specific idea of what it would look like other than general ideas on windows, doors, and layout. Those niceties of color and pattern for walls, floors, countertops, etc. are kind of evolving as we move through the process.
We chose a greenish (Meadowgrass) Avonite counter material and are now looking at vinyl flooring that will work with both this and the honey-spice maple cabinet finish.
The brownish-gold sample at top looks good and matches the countertop pretty well. We may go with the lighter green one shown below to get away from the gold look a bit.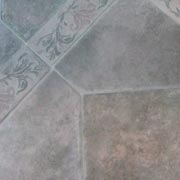 Hopefully tomorrow morning when we can compare samples in sunlight we'll make a decision, check that off our list, and move on to the range hood/over-the-stove microwave debate.
Long story short: Joanne likes the convenience of the microwave over the stove rather than on the counter. I like having a quiet, effective vented hood over the stove. My online research was pretty conclusive that these two things aren't possible in a single unit.
First cabinets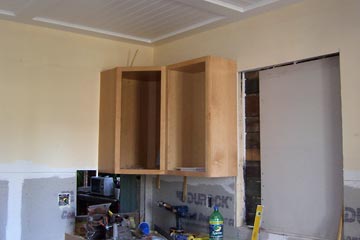 We've reached another milestone: the first cabinets are in place. We're being held up by the garden window that will go in the opening to the right of the cabinets. It was supposed to be delivered last Friday, now has been promised for the end of this week.
Current plan is for someone to drive to Parkersburg, WV tomorrow to pick up the window so we can get this project back on track. What a pain.
More about the kitchen rehab:
Kitchen ceiling (Mar. 27, 2009)
Kitchen progress (Mar. 24, 2009)
Behind the scenes (Mar. 21, 2009)
Storm hits:kitchen demo (Mar. 16, 2009)
Calm before the storm (Mar. 15, 2009
Countertop decisions (Mar. 10, 2009)
Decisions, decisions (Feb. 20, 2009)
Kitchen rehab, coming soon (Oct. 26, 2008)
Top | |