FEBRUARY 28, 2009
Same old stereotypes
Old stereotypes die hard, if they die at all.
Yesterday as I was browsing a couple of stock photography websites to find images for a brochure I'd designed I thought it might be interesting to compare what each site turned up with a search for the same term.
Earlier I'd been looking for photos of African-American students, and the search for those words worked pretty well on both istockphoto and stock.xchng. As a test, I tried simply "African American" on each site. Here's what I got: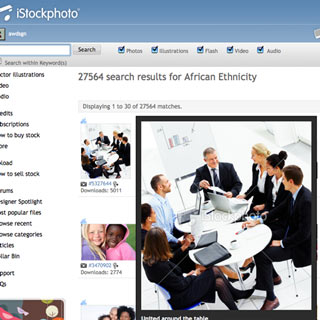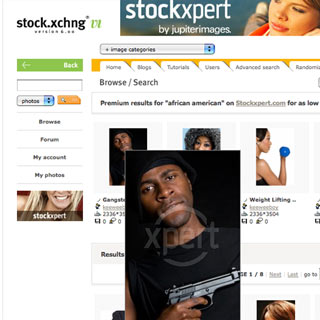 I don't know about you, but neither of these seems to be a particularly good representation of African Americans, for very different reasons.
When I tried "criminal" here's what I got: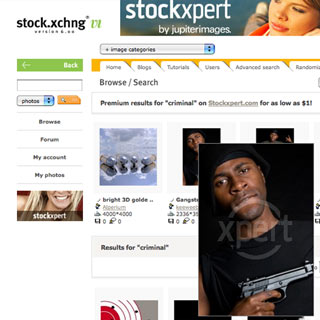 This is downright disgusting. The website search essentially equates "African American" with "Criminal." I don't think that this is the result of a deliberate policy by the website developers. It has to do with how the photos in the collection are tagged with keywords.
The first photo uses these keywords:
Cheerful African Ethnicity Expressing Positivity Whiteboard Board Room Financial Occupation Office Worker Businessman Businesswoman Business Business Person Caucasian Computer Talking Discussion Ethnic Female Formalwear Group Of People Laptop Mature Adult Meeting Men Occupation Office People Planning Senior Adult Smiling Success Suit White Collar Worker Young Adult Manager Paperwork Communication Multi-Ethnic Group Partnership Professional Occupation Team
The second photo has these:
adult adults african american anger angry background bad banger beanie beanies black boy boys close closeup crime crimes criminal criminals dangerous diverse diversity emotional emotions ethnic ethnicity expression face firearm firing frustrated frustration furious gang gangster gangsters gun guns hand hat hats hold holding mad male males man men people person pistol pistols powerful robber shoot shooting stereotype teen teenage teenager teenagers teens trigger up violence weapon weapons with
Notice that in both cases my search term "african american" or part of it appears very close to the beginning, which explains why that picture is first on the page. Since every one of the thousands of photos on these sites is tagged with multiple keywords, it's a complex process to sort them effectively. But deliberate or not, results like the ones from stock.xchnge unknowingly reinforce some of our worst stereotypes.
Top | |