JANUARY 15, 2009
Pictures + sale = souvenirs
My usual bargain-hunting mentality spurred a burst of creativity today. I spent several hours searching for and prepping photos to take advantage of a Snapfish clearance sale. 50% off on playing cards and magnets gave me the idea that we could make our own Cleveland souvenirs to take as gifts for people we visit on our travels. They're small,
I scanned through three years of almost daily additions to my iPhoto Library and pulled out eight or nine characteristic Cleveland images, mostly skylines and lakefront shots. Joanne & I went through them together and tossed out the most obvious "postcard" images that you've seen a zillion times. We found, of course, that the borderline between quintessential Cleveland and trite is a thin one. You may well think we crossed it. I take responsibility for the final choices.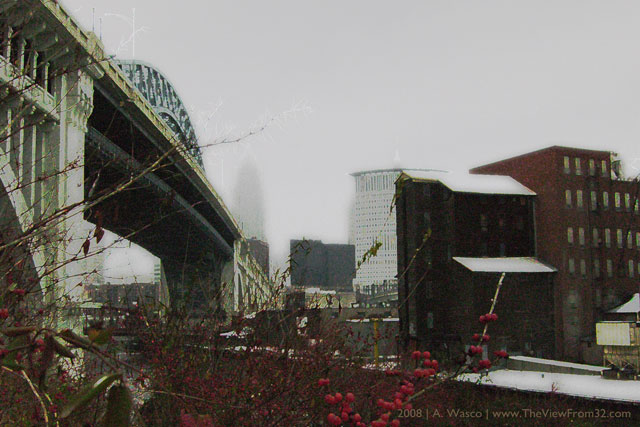 As you'll see below we threw in a Kelleys Island sunset because it's so darn colorful. The Mona Lisa graffiti artist is one of my all-time favorite shots.
The image at right—pretty heavily manipulated in Photoshop— will be on cards I send to friends this year but leaves Joanne completely cold. Go figure.
---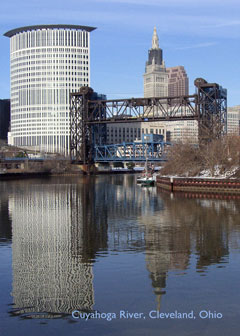 The mandatory skyline pictures.
---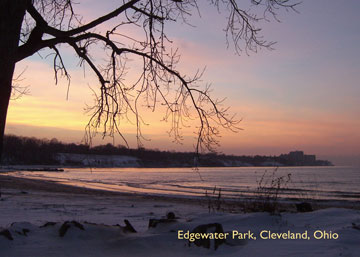 Edgewater Park at sunset. I've seen a lot of these and never tire of them.
---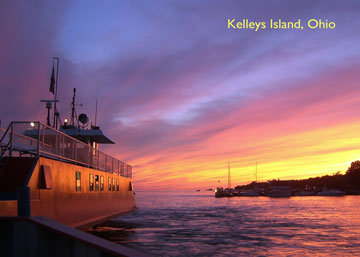 A spectacular sunset at the Kelleys Island ferry dock.
---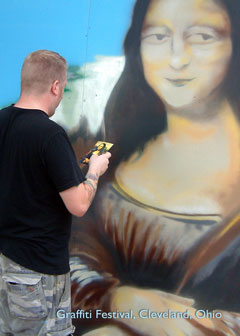 Graffiti artist working on a big Mona Lisa during 2007 City Expressionz in Market Square Park. About an hour after these pictures were taken a sudden downpour ended the festival. This masterpiece was never finished.
[ Click to see the finished decks of cards ]
Top | |