FEBRUARY 8, 2009
South on I-71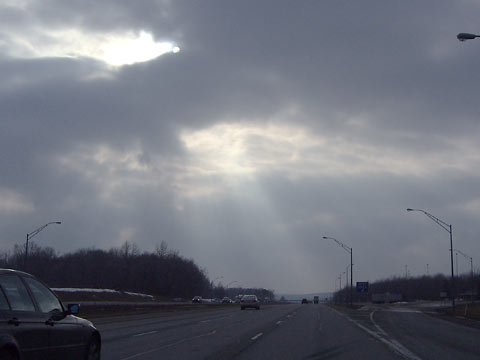 Driving the familiar route south on I-71, heading for Dayton via an overnight stop in Yellow Springs, the sun broke through the clouds about halfway to Columbus.
The rest of the trip was sunny, all the way until I was heading west from Columbus and the sun was a huge red-orange ball low on the horizon ahead.
The plan was to get into Yellow Springs around suppertime, stay the night at Wally & Jeannie's, then drive to Dayton in time for an 11 a.m. meeting at Sinclair Community College.
The dry, partly sunny conditions made this a pleasant drive. The last hour or two my soundtrack was Girl Talk, at least up to Track 8. Somehow the CD had gotten a big scratch near the outside edge, making Tracks 8-14 skip badly. I ended up having to play it from the beginning a couple more times to make up for the songs that wouldn't play properly at the end.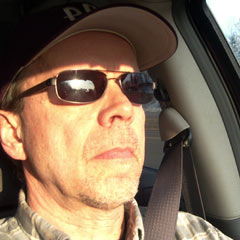 When I pulled into a McDonald's for coffee I saw myself in the men's room mirror. With my brown PBS hat, sunglasses and flannel shirt I thought I looked like a truck driver. Standing in line the guy next to me, speaking in that Southern drawl that seems mandatory for truckers and airline pilots, talked with me about the problem of lots of snow on a fourteen foot six inch trailer. It seemed I'd passed inspection in my truck driving attire.
Top | |