MARCH 14, 2009
Food, the Times, and more food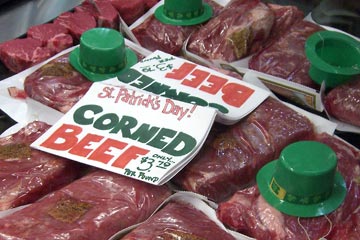 Continuing in with yesterday's theme—food—I was at the West Side Market this morning to stock up on the week's lunchmeat, bread, bagels, and fruit.
One of the meat stands caught my eye with this St. Patrick's Day display.
New York Times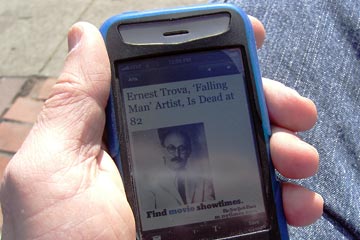 It was sunny and warm enough that I stopped to sit in the sun and read the New York Times on the way home. Not the paper, the version that you can read for free on the iPhone.
While I love having easy access to the Times, it's hard to see how this will add to the bottom line of the paper that is said to be in dire financial straits. I felt a bit guilty reading for free, but the truth is I rarely buy the actual paper, so they are not losing significant revenue from guys like me.
Still, the only income source on the iPhone version is the "Find movie showtimes" banner that appears at the bottom of each screen. Hard to believe that selling this service could bring in a lot of bucks, but I guess it's better than nothing.
Dessert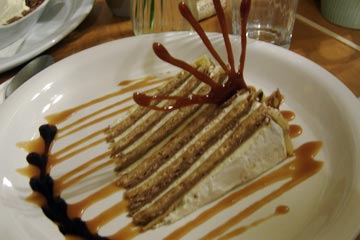 We had a fantastic dinner at Lucky's Cafe, one of the best breakfast spots in town. This special price fixe deal included an appetizer, main course and dessert. The dessert was this killer 40-year cashew torte.
I thought they might be exaggerating in it's name, but I tried counting the layers of butter cream, super-thin crepes, and cashew cream filling, and it's darn close to 40, give or take a couple.
Since I love cashews it was heavenly, but I'm pretty sure you could bring anyone in off the street and they'd come to the same conclusion. And incidentally, to get back to yesterday's food experience, Lucky's is a short half block from Lilly's chocolate shop.
Top | |