FEBRUARY 14, 2009
Valentines
A kiss from, Khadi
Today's first email:
Grate day to you, how goes the life with you? with hope that you are doing very well,Please excuse me to introduce my self, my name is miss Khadi James,from Liberian, i am 25 years never been into marriage or any relationship close to that,

I would wish to get into close relationship with, not minding the ethnicity or age but all i need is someone that need to love and be loved, please if you are a game player you better stay off, i will like to know what you like most in a woman and what you dislike, i will like you to write me as soon as you got this mail and it pleases you to get close to me. i will be very happy to read from you.

A kiss from,
Khadi
A cutting board from, Al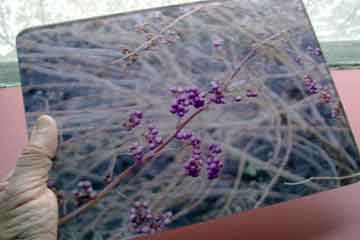 When Snapfish had its half-price sale last month I looked though several thousand photos on my computer and found a shot of purple berries from a couple winter's ago.
This would make a perfect gift for Joanne—whose favorite color is purple—in the form of a glass cutting board.
The regular price of $24.99 seems high, but the half-price sale seemed about right.
Oldies but goodies
Click the images to go to my earlier online Valentines. The animated Be still, my heart is simply eye-candy. It's a grid of tiny 12-pixel by 12-pixel animations (animated GIFs, for you web folks). Each square runs through its sequence of changes independently, but they are arranged to create bigger patterns.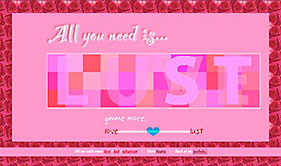 All you need is... lets you show more love or lust, depending on your mood. You'll notice your heartbeat responding to your choice. This was created with Macromedia Director and needs the Shockwave plug-in to play.
If Shockwave is not installed on your computer you'll get a message suggesting you install the plug-in. Go ahead, it's quick and won't do anything bad to your computer.
Top | |