APRIL 10, 2009
More Grand Canyon trip pictures & commentary on this site from 4/11 to 4/20. Our travel tips and suggestions at From the Cuyahoga to the Colorado.
Packing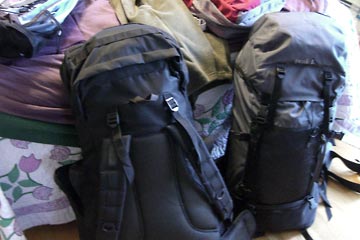 Packing for this trip to the Grand Canyon was unlike anything we've ever done. Normally Joanne & both travel pretty light, with a few changes of clothes packed into small carry-ons plus books, an extra change of clothes, computer, etc. in a small backpack each.
Not this time. We didn't think ahead a year or more to make reservations to stay at the bottom of the Canyon at Phantom Ranch. We've been calling for weeks hoping that a cancellation will free up two dorm beds, but no luck so far. And that's a very long-shot at best. So we have a Plan B.
Plan B is to hike about halfway down on Day 1, stay at Indian Gardens campground, hike to the bottom and back to Indian Gardens on Day 2, then back out on Day 3. Two problems with Plan B: the campsite requires reservations and is currently full, so once we're at the Canyon we'll have to enter a lottery every morning to try for a campsite. And of course if we DO get a campsite we need a tent, sleeping bags, food, stove, utensils, etc., stuff we've pretty much not used for twenty years or more.
I found a few usable things in the attic, and friends came to our rescue with everything else, including these two gigantic backpacks that are mostly filled with camping gear. So we're ready... I guess. We've never done any hiking with this much gear, and the Canyon is known to be a challenge for any hiker. So we'll give it a try and see what happens.
Top | |