FEBRUARY 23, 2009
New boots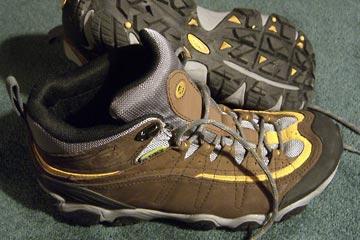 About six months ago I bought new boots, a $40 pair from Target. They were fine for walking in Switzerland and for everyday use in Cleveland. I have no regrets other than—as with the previous pair—one heel is already worn through the outer sole. Soon it will wear even more quickly until my foot and leg will start to feel the strain.
With a Grand Canyon trip coming in April that we hope will include a hike to the bottom and back, both Joanne and I decided to bite the bullet and buy good boots. The canyon hike has me a bit worried, especially since I've seen advice similar to this on several websites:
Don't underestimate how tough it is to hike Grand Canyon and, by all means, don't overestimate your own abilities. The Grand Canyon can humble a marathoner!
—from HitTheTrail.com
With this in mind, a good pair of boots seems like a smart investment. We might have been able to save a few bucks at one of the big chain stores like Dick's, but wanted good advice on what to buy. While I'm sure there are some knowledgeable salespeople at big chain stores, I know from experience they are in the minority. The one and only time I bought running shoes at Dick's the young person helping me congratulated my choice because it was the cooler-looking shoe.
So yesterday we drove to The Backpacker's Shop in Sheffield Lake, 25 miles west of Cleveland. It was worth the time and gas to find a salesperson who was willing to take as much time as necessary to find boots that fit properly, were right for the hike, and were what we wanted. In my case I was pleasantly surprised when he suggested I go with the less-expensive boot because overall it felt better. It's been a long time since I've had a shopping experience that good.
The boots I ended up with are Oboz Yellowstones, a brand I'd never heard of. I could have gotten them online for slightly less, but without all the help from the salesperson I'd never have known what to get. You could say I paid $20 for the advice. If they turn out to be a good choice after our Grand Canyon hike I'll consider it an excellent investment. The reviews at BackpacGearTest.org are promising.
Otherwise, too early to tell. I'm wearing them every day to break them in. Tomorrow will be the first long-ish walk, probably an hour or more.
Top | |