APRIL 15, 2009
More Grand Canyon trip pictures & commentary on this site from 4/11 to 4/20. Our travel tips and suggestions at From the Cuyahoga to the Colorado.
Cold & snowy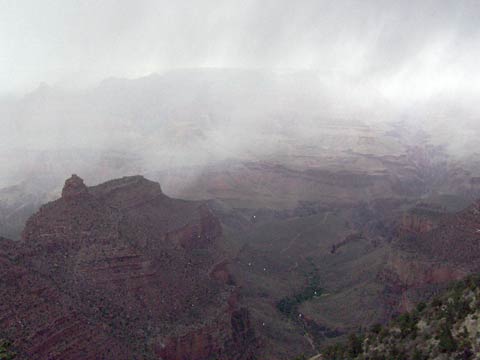 Today it was windy, cold and snowing for part of the day, with occasional teasing sunshine. We did chores—laundry—and a bit of walking along the rim.
Oh yeah, we moved from the expensive El Tovar to a small cabin that's part of Bright Angel Lodge.
My day started early: I got up at 4:30 to be in line for the Phantom Ranch wait list at 5 a.m. Tomorrow I need to check in at 6:30 to see if there are any cancellations. I'm #1 on the list, so I've done everything I can—the rest is up to fate. If we don't get to hike down tomorrow I'm thinking we'll try to move our car rental up a day and leave on Friday instead of Saturday. We'll see.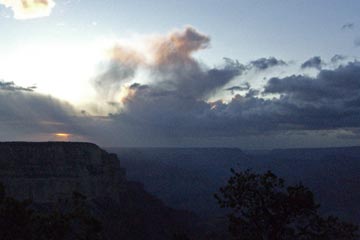 We waited in the cold for the sun to set—unfortunately close to an hour—and it wasn't fabulously beautiful. In fact it really wasn't all that great, as sunsets go.
Then there was a huge crowd waiting for the shuttle bus, including a big crew of Japanese tourists. I figured that jamming onto the bus might remind them of home.
Fine dining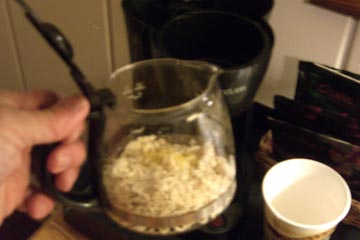 We were cold and hungry when we got back to our cabin. It took a bit of thought, but we figured out a way to cook the ramen noodles we'd packed from Cleveland.
It wasn't the most elegant dinner, eating noodles out of paper cups with plastic spoons, but it tasted darn good.
Top | |