MARCH 15, 2009
Calm before the storm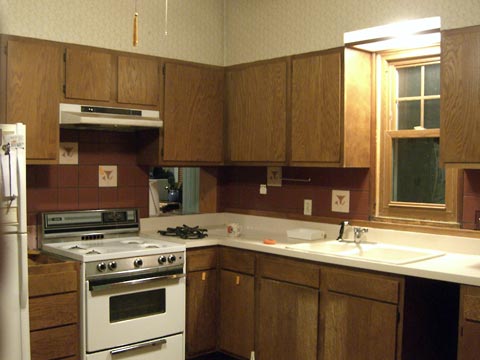 Here it is. The last time our kitchen will look like this, as it has for the past twenty or more years. It looks pretty good in the picture, but in a lot of ways it's really showing its age.
At eight tomorrow morning Danny's crew from Precision Building Solutions will arrive and tear out the old cabinets, soffit, walls and flooring to create a new look and arrangement of space.
I've been alternating between dreading this big upheaval and looking forward to the new, improved kitchen. We'll have more counter space, more cupboards, a big garden window to replace the small one over the sink, and overall a lighter, airier look.
Oh, and the floor that I spent hours cleaning about a year ago, that will be replaced too.
More about the kitchen rehab:
Countertop decisions (Mar. 10, 2009)
Decisions, decisions (Feb. 20, 2009)
Kitchen rehab, coming soon (Oct. 26, 2008)

Top | |