FEBRUARY 10, 2009
Sinclair Community College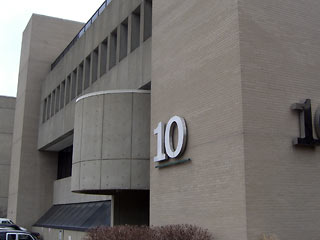 Back at Sinclair today I had two interviews, one with the department chair, the other with an instructor. Since I'd been to Building 13 yesterday I had an easy time navigating the campus. Like most community colleges I've seen, the architecture is depressingly consistent and boring. If the grass and trees were green and the sun was shining, all the angular concrete would be balanced by nature. On a cloudy February afternoon, no such luck.
Two problems result in community college campuses being typically dull places. First, as a relatively new educational concept (most began in the 1960s) community colleges usually are linked clusters of buildings built all at once. They seem to share an architectural vision that is long on practicality and short on personality. In contrast, most four-year colleges and universities have grown over a period of years, resulting in a mix of building ages and styles.
Secondly, because they are largely funded by taxpayers and emphasize low tuition, I think great emphasis is placed on making buildings appear to be sturdy and practical, no-nonsense learning spaces. They are often labeled with letters or numbers instead of names, and inside and out are mostly featureless. All of this makes good fiscal sense, but results in spaces that are mostly just plain dull.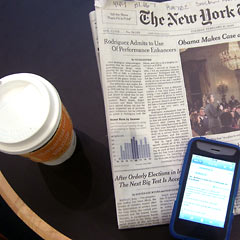 In this respect Sinclair is typical. The library where I read the New York Times while I drank a cappuccino was more colorful and friendly than other buildings, and hopefully marks more of an emphasis on creating an inviting space to study and learn. Where I teach, Cuyahoga Community College, the new Technology Learning Center similarly shows more creativity in design.
But as always, buildings are simply the context for what goes on inside. I was there to talk with people, and enjoyed both of my interviews with Sinclair faculty. While teachers everywhere share some issues and concerns, the community college is a unique environment. Because of our "open admissions" policy, students come from all backgrounds, with wildly varying degrees of seriousness and self-confidence. We have only a couple of years to work with them. It often seems that just when they are starting to develop, they're gone.
So all in all today was a good day in downtown Dayton. I came away impressed with the energy and focus of the people who make up the institution and new perspectives on how we approach our common task of teaching.
Top | |