FEBRUARY 24, 2009
Walls, doors & windows
It's a good thing that my walking partner Jared shares an appreciation for the texture of ordinary life, especially what he calls "urban decay." I love this stuff, and he patiently waits while I pull out my camera every few minutes on a walk around the neighborhood. In the first test of my new hiking boots we went 5.5 miles west along Detroit and Lake to West 78th, angled south to West 99th and Madison and then back home. The boots felt a little tight but good. Here's a few of the places we stopped to enjoy.
---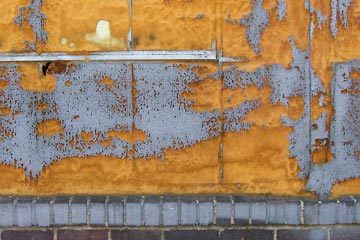 These factory windows were covered with foam insulation, then painted gray. Weather has taken its toll, leaving a combination of color and texture.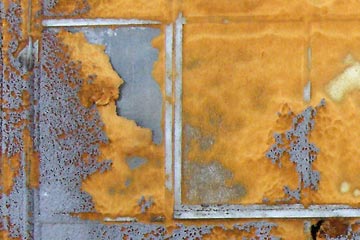 ---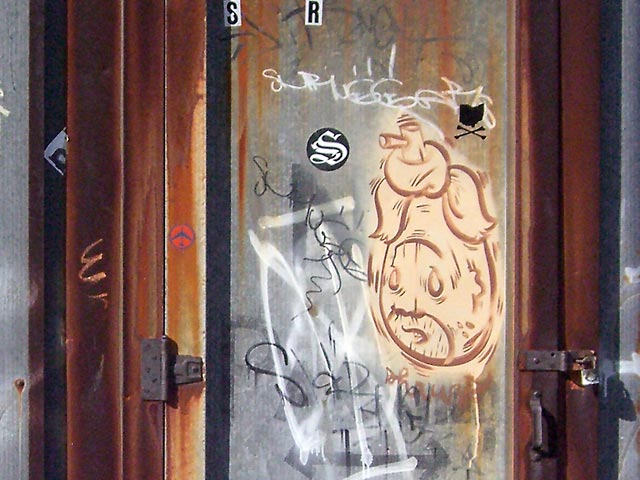 A metal storage shed is the canvas for an energetic burst of tagging, stickers and art.
Mouseover to enlarge >>>
---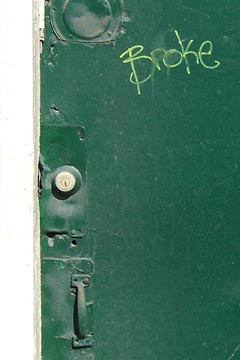 Don't bother trying—someone has thoughtfully pointed out that this door isn't working. See a similar message on an outdoor phone booth from a year ago.
---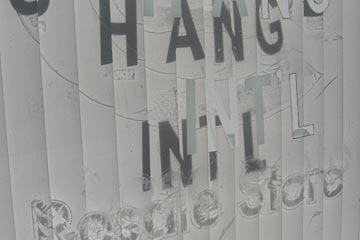 Light and shadow make this sign on a Madison Avenue storefront window even more interesting. The dark letters are shadows cast on the white vertical blinds inside the window.
Note that "Rescue Store," clearly readable as a shadow, is virtually invisible on the glass itself. The left-behind glue casts a detailed shadow.
---
More shadows, this time on Franklin at West 54th (near where Joanne and I lived as a newly-married couple).
I love how the shadow is a curvy version of the lettering since it's cast on a sheet of plastic hung inside the window.
---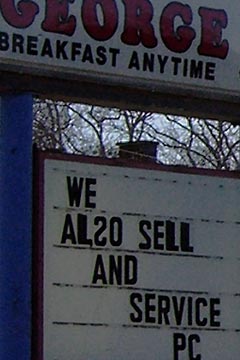 Can't resist this one—makes me laugh.
"I'll have two eggs over easy with bacon, and can you reformat my hard drive with that?"
Not only is the combination an odd one, but the sign doesn't give you a lot of confidence in the quality of their computer repair work?
Top | |