APRIL 21, 2009
More Grand Canyon trip pictures & commentary on this site from 4/11 to 4/20. Our travel tips and suggestions at From the Cuyahoga to the Colorado.
Wow.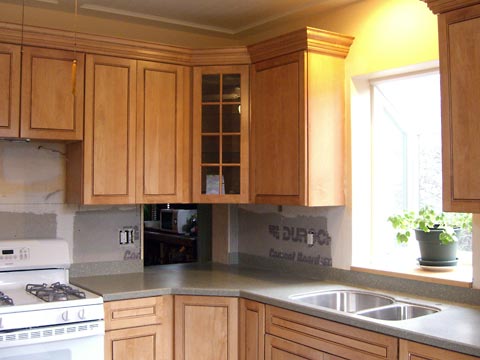 That was our reaction when we saw how the kitchen looked last night, and in the light of day it looked even better.
The gray-green countertop, a sizable investment, had me worried. We picked a color from a 2 x 3 inch sample, not the best way to judge what ended up being a huge expanse of counter.
But we're both happy with it—thank goodness. At this point there's no turning back, no do-overs.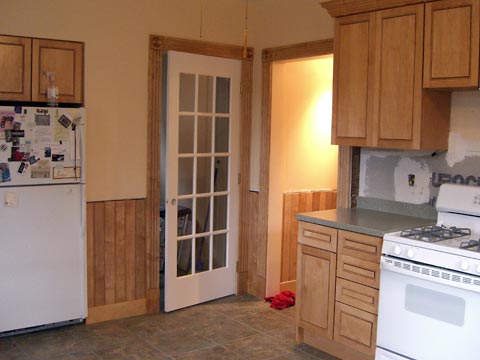 There are a few finishing touches to be done, including chair rail at the top of the wainscoting, knobs on the cabinet doors, and a tile backsplash between the counter and cabinets. But what you see here is pretty much the look.
The floor tile looks a lot like some of the rock we saw in the Canyon. I really came to like the green and rusty-red colors of the desert. I'm sure that's going to affect our backsplash color choice.
At this point to say that we're pleased with how this has turned out would be an understatement. Can't wait till it's done! [See it finished]
Top | |