Coco Montoya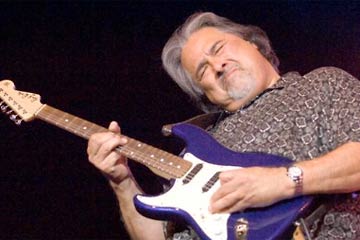 If you like blues—or folk, or reggae, or soca, or any non-pop music—you'll find it on college radio stations. Here in Cleveland my favorites are WCSB 89.3 FM, WRUW 91.1 FM, and to a lesser degree WKSU 89.7 FM (folk every weekend night).
Monday nights it's WCSB for sure, with Timmy the Hippie playing a wide variety of folk music from 7:30-9 p.m. followed by Blue Monday (blues, of course) from 9-11 p.m.
I'm going to share a little secret with you, even though I may regret it later. If you listen to college radio you can hear a lot of great music free. The secret is you can hear it live and in person via free ticket giveaways that these shows have regularly. Because the audience for each show is relatively small, when you call in you have an excellent chance of winning. I'd guess that my record is at least 50% successful when I try to be "Caller No. 2" or "Caller No. 4."
This Monday I scored a couple of tickets to see Coco Montoya at the The Winchester. He's a blues guitar player from LA who started as a drummer for blues master Albert Collins. Coco learned guitar from Collins and in the 80s played with John Mayall's Bluesbreakers for ten years.
The Winchester is a former bowling alley in Lakewood that's a low-key club where people come to listen to music, not to get drunk and play video games (well, most of them, anyway). On Monday night Montoya and the band walked onstage about 9:30 and were still going strong when we left after 11.
Montoya's band, apparently having just gone through some personnel changes, was adequate, but his guitar and vocal really lit the place up. He played quiet, beautiful guitar solos, and he did screaming, lightening-fast solos. The guy is the real deal, both as a player and a singer. Take a listen to some of his music on MySpace.
If he comes to your town it's worth buying tickets if you don't win them on college radio. In the meantime, support local independent college radio. Since the stations are often low power, it's often better to listen to them via the computer (see links in first paragraph). As I write this I'm listening to WRUW's When the Roses Bloom Again online. Gotta love it.
Top | |
Crown molding
Another milestone in the kitchen rehab: the cabinets are now topped with crown molding.
I'm a little concerned that the crown is too bulky for the rest of the cabinets. It's hard to judge that now, without the countertop in place. I think (hope) that the wide expanse of counter will offset the molding.
We'll see. Next steps: kitchen stove arrives tomorrow, counters on Monday, casing and wainscoting gets stained and finished, walls painted, flooring goes in, and finally the backsplash is installed. Whew. A lot is done, but there's still a lot to go.
Top | |