MARCH 10, 2009
More decisions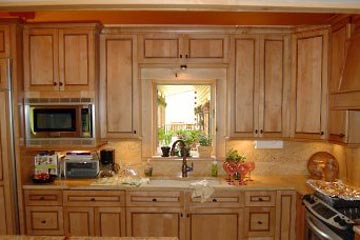 Slowly but surely we've been making decisions for our big kitchen overhaul, scheduled to start next Monday.
In February we were still undecided about cabinets, but no more. We ordered KraftMaid Mandolay in Maple Honey Spice. They look something like the ones in the picture, although our kitchen doesn't.
Still undecided: countertop pattern/color, flooring, backsplash, sink, wall color... yikes.
Part of the problem is that all these things interact with each other, but we're seeing them separately, and sometimes just small pictures in brochures or online. Take countertops, for example. After looking at dozens and dozens of samples of granite, quartz, Corian and Avonite we've narrowed it down to what's called "solid surface," i.e. Corian or Avonite. It feels like we're swimming upstream in the a strong pro-granite current, but neither Joanne nor I are fond of the look of granite.
Today I was looking at tiny (2" x 3") samples of Avonite and it was frustrating trying to imagine what a 2 foot by 6 foot slab would look like in the kitchen. Fortunately the Avonite website has an interactive Colorizer that shows each color/pattern on a photo of a kitchen counter.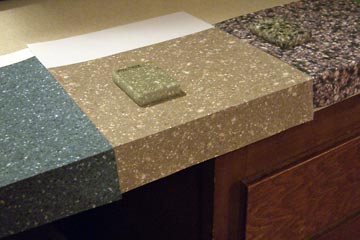 You can also download and print samples of each pattern, which I did for a few of the more promising colors. When I folded an edge and set the samples on our existing counter it was a bit easier to imagine what we'd get.
Unfortunately the new cabinets will be significantly lighter in color than what we have now, so it's still hard to judge how they will look together.
---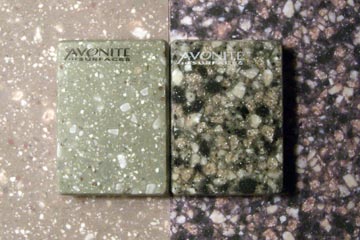 Another problem is the dramatic color difference between the printed version and the actual material, as you can see in this photo. The printed pattern (the larger rectangle) is remarkably realistic but the color is quite different.
No decision yet. Coming soon: flooring.
Top | |