FEBRUARY 15, 2009
Wrestling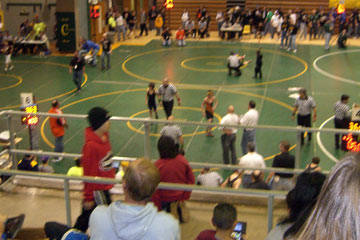 Today was my introduction to wrestling, another new path I've taken courtesy of the grandkids. Xavier, 11 years old, started wrestling a couple years ago. While I've been to both indoor and outdoor soccer games, not to mention football, I've avoided wrestling. It's a sport I neither understand nor appreciate.
Today was different. Xavier was in the state finals—how could I pass that up? In the center of the picture the referee is about to raise his hand to indicate Xavier's victory in this match, while the defeated kid walks off to the right.
After seven hours in an incredibly hot and somewhat smelly high school gymnasium, Xavier ended up losing his final match but still finishing 6th in the state for his weight. Not too shabby.
The whole scene was fun—for a couple of hours, at least—lots of kids and parents milling around, eating hot dogs and drinking slushies. The matches are only three minutes long unless there's overtime, so you spend most of your time waiting for the next match. Then there's an exciting few minutes followed by congratulations or condolences.
I was happy to see that Xavier and most of the other kids took both victory and defeat in stride. Fortunately their parents were equally even-tempered in public. I didn't see any of the hyper-competitive attitude among parents that makes some other sports stressful for everyone and not much fun for the kids.
Top | |