MARCH 28, 2009
Film Festival, again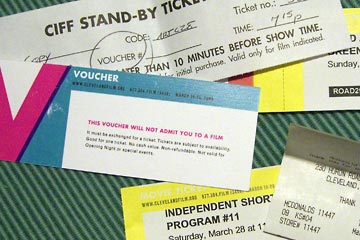 Joanne and I started early today with an 11 a.m. screening of various shorts at the Cleveland International Film Festival. Later in the day I came back for Art & Copy, a surprisingly good film about the advertising industry and a few of its superstars.
Art & Copy, in fact, was one of the strongest films I've seen, in part because I didn't have high expectations. I went mostly out of a sense of professional curiosity, to get an inside look at an industry I've never been much attracted to despite my connection to it as a designer.
The film was so successful because it humanizes a business that most of us love to criticize. It made advertising almost seem like a noble calling. It compared great advertising to art in a way that seemed far less outlandish than you might expect. This is a film that every one of our advertising design students should see. It could make them set their sights much higher.
It's a happening
The Festival is one of those unique Cleveland events that's enjoyable because it's grown into a yearly celebration. Tower City is jammed with people from morning til night for ten days straight. We always run into people at the Festival that we rarely see elsewhere.
Despite lines to buy tickets, lines to get into the films and occasional snafus and disappointments due to technical problems or just too many people, everyone is uniformly in good spirits. People cheer the attendance announcements—new records for every day and for the entire festival—and for the achievement of the fund-raising goals.
Like the Art Museum and the Orchestra, this is ours, and we love it.
Top | |