FEBRUARY 19, 2009
Veggie "Parmesan"
If you want to eat more vegetables and/or cut down on meat, here's a recipe that I think will win over all but the most carnivorous eater. It's based on a mushroom burger recipe I found on the internet. Two keys to its great flavor and texture: chopping and browning. The veggies and mushrooms need to be chopped very finely. Then you saute them in until they are browned, which makes them taste "meatier."
You can make burgers to serve on a bun, but I made something similar to Chicken or Veal Parmesan instead. A lot of chopping is involved, but it's worth it. A food processor—which I don't have—would save a lot of prep time.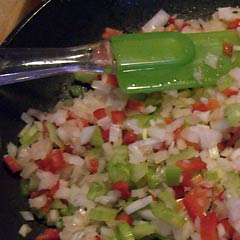 To start I chopped a medium onion, stalk of celery and about 1/4 of a red pepper. Obviously you can adjust this depending on what you have and what you like. I also minced a clove of garlic and sauteed everything in olive oil until it started to brown.
---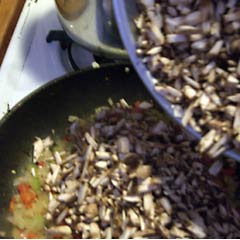 Next I added about a pound of Crimini mushrooms, also finely chopped, to the veggies in the pan. Any kind of mushrooms will work, but Crimini or Portobello have more flavor and better texture than plain white mushrooms
---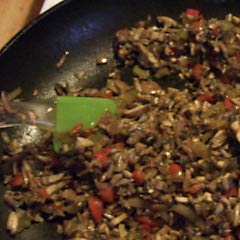 Continue sauteing until browned. This step gives the veggies a nice toasty flavor.
Add salt, pepper and any other seasonings you like. If I had fresh basil or oregano I'd definitely put some in.
---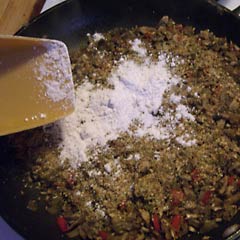 To help hold everything together, add flour and/or bread or cracker crumbs. I also used a small amount of wheat germ.
All together I probably put in a half cup of dry material. More would have have made a firmer, more consistent texture, but this amount let the vegetable flavor dominate.
---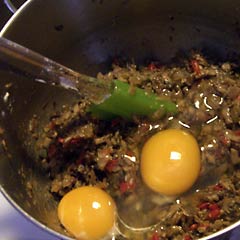 I put the veggie/flour mixture in a bowl, let it cool a bit and mixed in two eggs.
The mixture was too soupy, so I added another half cup of cracker crumbs, enough to make it a consistency that would stick together.
---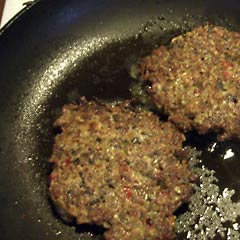 I made patties about 3/4 thick, and fried them in a little olive oil until they were nice and brown.
I ended up with about eight 4-inch patties.
---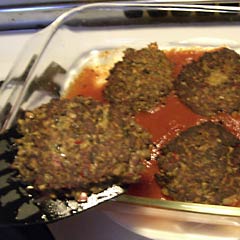 Put a thin layer of tomato sauce—I like Prego if I don't have homegrown tomatoes—on the bottom of a baking pan big enough to hold the patties in a single layer. Add the fried patties.
---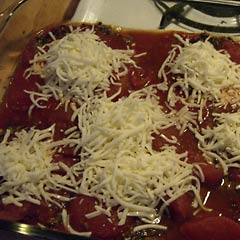 I poured leftover canned tomatoes on top, or you could just use more tomato sauce. I baked this, covered with foil, for about an hour in a 375 degree oven.
I uncovered it, put a small handful of shredded mozzarella on each patty and baked it uncovered for about a half hour more. You could also put the cheese on at the start and the flavors would mix together more. Your call.
---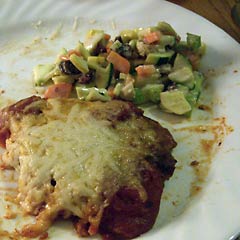 Here's the finished product, served with a chopped salad (zucchini, yellow squash, celery, carrots, walnuts, raisins).
Sorry about the messy plate. I was halfway through my first helping when I thought about taking a picture. This is my second helping. Darn tasty.
If you try this recipe, let me know what you think.
Top | |