It doesn't get much better than this

When Kristine Jackson & her fellow trumpet player stepped off the stage to parade through the crowd at Mike's Barn, it hit me that for music lovers this is as good as it gets. We'd been enjoying the rustic comforts of the barn for about five hours at that point, and in my view KJ's performance was the high point.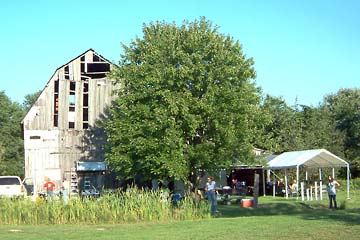 Let me back up a bit.
Mike's Barn is a barn in Elyria, about a half-hour drive from downtown Cleveland. Mike Yates and friends refer to it as a "musicians' clubhouse" because it's where a place where (and maybe not-so-serious) musicians get together for the music, not the money.
Hard to believe?
Think about this: for this year's "Broad Side of the Barn" line-up of Cleveland's top female blues musicians, we paid $22.50. The music started at six; we left early, missing what no doubt was a great finale, but we were tired and cold...and satisfied with with we'd seen & heard already. That was about midnight.
Six+ hours of great music for $22.50. Hard to top that.
To back up a bit more, I'd met Mike at Robert Lockwood Jr's birthday performance at Fat Fish Blue a year or two ago. We were both leaning against the wall and got to talking between sets. He mentioned that he ran this informal music venue, but that he was going to close after that year.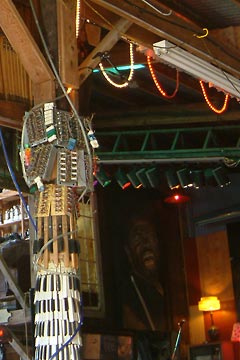 So...I was very pleasantly surprised to read about "Broad Side of the Barn" in CoolCleveland.com this week. Not dead after all. The show sounded like something not to be missed. Boy, for those of you who think Cleveland doesn't have great stuff happening like some of those "cool" cities, open your eyes!
Mike's Barn is furnished with a collection of oddball stuff, from 50's era lamps and couches to keyboards, circuit boards, and the innards of dozens of presumably dead musical instruments.
The row of seats in front of the stage is a collection of couches and armchairs, while those of us further back sat on wooden folding chairs along side long tables. Some people enjoyed the music sitting outside around a bonfire.
We'd brought a cooler as suggested on the website, since no alcohol is sold at the Barn. We took advantage of the $1.50(!) make-your-own beef, pork or kielbasa sandwiches being sold behind the barn. Slices of cake and pie were free for the taking.
When was the last time you went to a paid performance of any kind when you didn't feel that the organizers were determined to suction every last dollar out of your wallet while you were there?
I should add that the night was beautiful, making the short walk from the barn to the porta-potties a great opportunity for star-gazing. Friendly dogs strolled around, a couple of bonfires were burning, and the overall "vibe" was like a picnic with friends, some of whom happened to be great musicians. Pretty much as described:
Oh, the music. Can't forget that.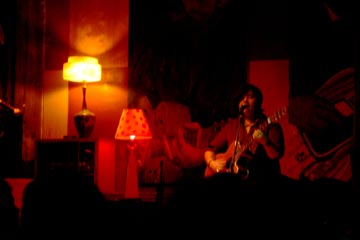 Much to my surprise, it started nearly on the dot of six. Gospel first, Kim Bryant:
followed by the bluesy Reed Project with Ms. Butterscotch:
then jazz/blues piano (Jackie Warren).
The mood shifted slightly with an interlude of beautiful Brazilian guitar and vocals by Luca Mundaca, seen here onstage.
Back in high gear, Tracy Marie accompanied by Michael Bey and the Bad Boys of Blues took things into a blues/rock direction, and Becky Boyd followed with more blues. Kristine Jackson, who's become one of my favorite performers since she left the Mary Bridget Davies Band to go out on her own, raised the roof with smokin' blues/rock.
Last on stage was Mary Bridget Davies, who has the voice and energy of a dark-haired Janis Joplin.
At this point, sadly, fatigue and chilly temperatures that we hadn't dressed for overpowered our ability to enjoy the music. We left midway through Mary Bridget's set. I just know that when all the performers got on stage at the end it was a killer moment! Next year we'll be prepared, and we'll be there for it.
TOP | | |
ARCHIVE
SEPTEMBER
AUGUST
JULY
JUNE
MAY
APRIL
http://www.veryshortlist.com/images/days/255_chart.gif