Morning flight to Chicago. At takeoff we just beat a threatening line of clouds coming from the west. Once we were airborne it was beautiful. In this view we're flying along the southern shore of Lake Michigan. Notice the plume of smoke from the chimney close to the shore at left. See a different viewpoint below.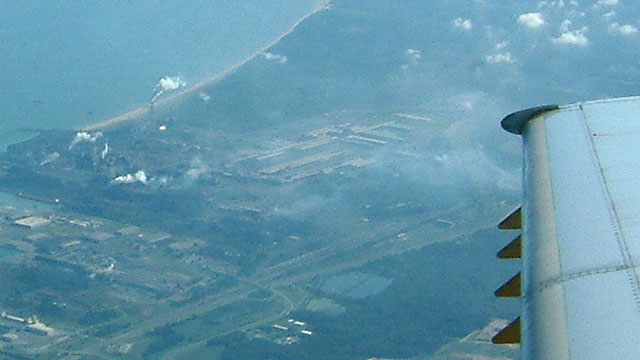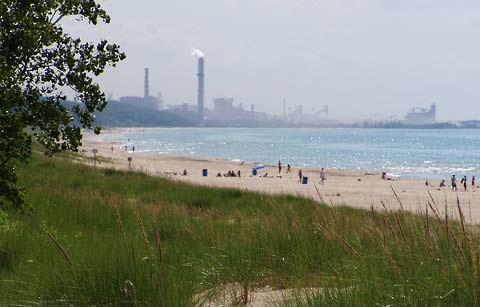 Here's the same chimney seen from Indiana Dunes, the beautiful national lakeshore park near Chicago that's incongruously sandwiched between a steel mill and a power plant. Here's a picture of the steel mill, from the park's website.
When Sharon lived in Chicago, or earlier in Evanston, we'd stop sometimes on the drive there or back just the sit in the sun on the beach for awhile. I miss those trips to Chicago.
Most of the time the steel mills are not this visible, and at times they vanish from view altogether, leaving you with a wide expanse of lake and sand.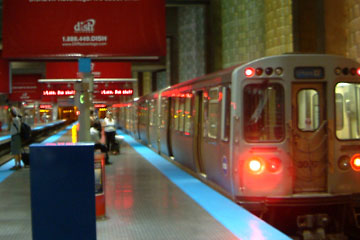 I got a perverse sense of satisfaction when I found out that the CTA was no better organized than Cleveland's RTA. At the O'Hare station there were two trains waiting (a third eventually pulled in). Strangely there were no signs or indications of any kind as to which train would leave next. After the logical clarity of the London Transit system you've got to wonder why Americans can't figure out basic information like this.
After about a 15 minute wait the train pulled out only to dump us off at Western because they were working on the track. So we all got on a shuttle bus which slowly made its way to each of the Blue Line stops. Along the way we passed The Bongo Room, a great Sunday brunch place we went to when Sharon lived in Wicker Park.
"The Bean," as it's called by Chicago folks, is an immense squished ball-shaped sculpture in Millenium Park. It's highly polished and reflective all around, including the inner part that's pushed up like you took a basketball with hardly any air in it and punched the bottom up toward the top. As a result, you get all sorts of funhouse type reflections. In the photo you can see at least four places where Angela and I (holding the camera up) are visible.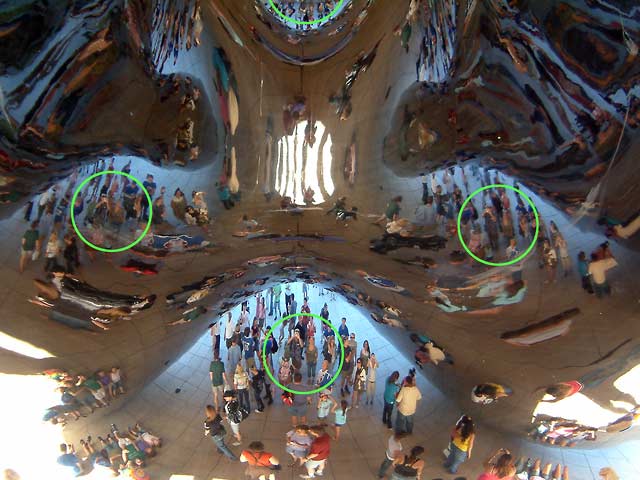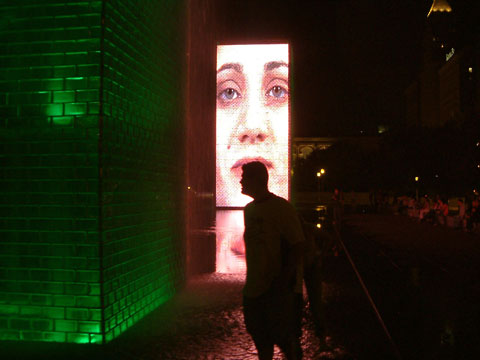 The "bean," officially titled "Cloudgate" is worth a trip to Millenium Park itself, but the giant video sculptures nearby are fantastic too.
They combine video of peoples' faces with a changing pattern of water spraying down from the top and occasionally in a stream out from the peoples' mouths.
At night when the three non-video sides are lit with a cycle of changing colors they're like a contemplative, non-commercial Times Square.
TOP | | |
ARCHIVE
AUGUST
JULY
JUNE
MAY
APRIL
http://www.veryshortlist.com/images/days/255_chart.gif