Conversation starter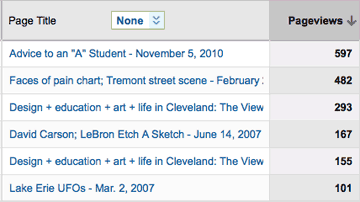 Today was a big surprise: for the the first time in years a new article I posted topped both the Wong-Baker Pain Scale and LeBron James in popularity. Lake Erie UFOs, too.
I'm thrilled that my recent Advice to an "A" student was forwarded and retweeted by many, bringing close to 900 visitors to this site (850 more than on a typical day).
As I'd hoped, it started an online conversation that's been gratifying and helpful to me and I hope other teachers and students. In a few days, after the dust settles and the traffic dies down, I'll try to summarize the discussion in an update.
In the meantime, if you haven't already joined the conversation I'd love to hear your opinion. Use the link above or here to read the original article. Please add your comments at the bottom of that page.