Green tomatoes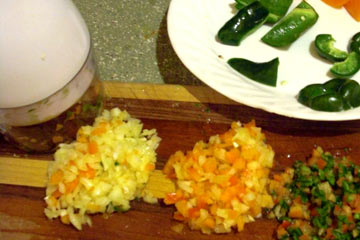 I felt like Vince on a Slap Chop infomercial: "You're gonna be in a great mood all day 'cause you're gonna be slappin' your troubles away!"
My troubles were a big bowl of green tomatoes, a dozen onions and a few peppers that I at first thought I'd chop with my kitchen knife. The longer I looked at the veggies piled on the counter the dumber that idea seemed.
Joanne suggested that I use my KitchenAid Food Chopper
to prep the veggies for Green Tomato Relish. What a great idea! The chopper saved me tons of time and worked better than I expected. After a few minutes of chopping I had a bowl full of tomatoes, onions and peppers. I'm a little surprised that the chopper gets only a 2-1/2 star review at Amazon.com. It sure worked for me.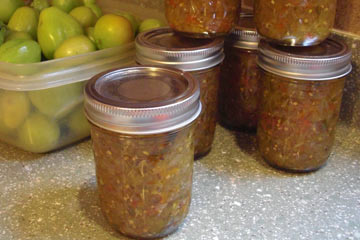 Then, with the addition of lots of sugar, some apple cider vinegar, celery seed and mustard seed, voilá! Green Tomato Relish.
Fair warning: if you invite me to a party during the holiday season, you can expect to get a jar of relish as a host/hostess gift. Hope you like it.