Learning from a chef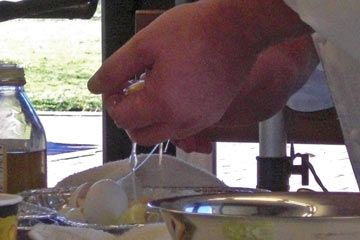 It wasn't just the free samples of food prepared by chef Brandt Evans at today's Mediterranean cooking demo that attracted me. But I'll admit that did help lure me to the Western Campus cafeteria at lunchtime.
I stayed the entire hour and enjoyed watching Evans slice, chop, season and simmer his way to a "Kitchen Garden Soup".
I loved his low-tech method of separating egg yolks from whites (crack the egg into your hand and let the whites drip through your fingers into a bowl).
Beyond the kitchen
Surprisingly, what I jotted down were life lessons, not cooking tips. I plan to pass them along to my design students.
"There has to be some risk taken if you want to learn new things."
Now, granted, Evans was talking about trying Swiss Chard if you've never cooked with it before, but the advice holds true for learning about anything.
His advice on how to break into the business of cooking similarly applies across the board:
"If you work hard, you're dedicated, you're polite, the sky's the limit!"
All in all, an hour well-spent in more ways than one.
I'm looking forward to the new downtown restaurant Brandt will be opening soon as part of Tri-C's new Culinary Arts Center.