Cavs game in Logoland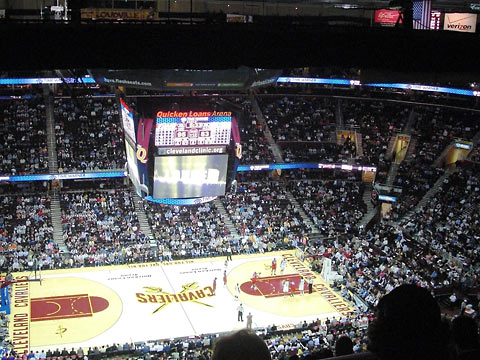 You get quite a panoramic view from these cheap seats, up where the ceiling meets the wall in Quicken Loans Arena.
Once you get used to ant-sized players you can follow the game just fine.
I was more impressed by the sheer number of corporate logos that assault you everywhere you look.
On the scoreboard alone there are four companies and five logos (the arena has its own).
Looking around, the bright spots on the lighted strips circling the levels of seats are logos, as are the bright panels at each tunnel entrance. In the corners at the very top are more, and too small to see on this picture are two different companies advertising on the padding on the backboard posts. Then of course there are Cavs logos painted on the floor, logos on the team uniforms, and more.
Sell, sell, sell. Buy, buy, buy. Oh, and go Cavs!