Visiting old friends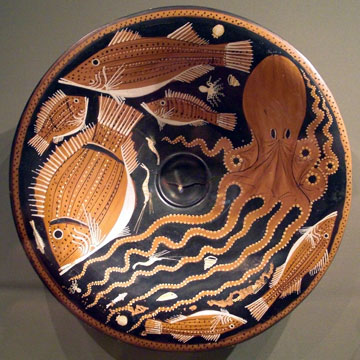 When I had my own freelance design business I used to take Friday afternoons off to visit the Cleveland Museum of Art. It was a reward, a break, and a source of inspiration.
I haven't done a Friday afternoon for a long time, but today I decided I needed that kind of creative break. As I wandered throught the recentlyl-renovated galleries I was happy to be reacquainted with old friends.
This Greek "fish plate" is a visual feast even for someone like me who doesn't eat fish.
I did a quick search to find out when it was made (around 400 BC) ands found a photo of a similar one described as "magnificent."
By that standard, the Cleveland Museum's plate is "spectacular".
Say "cheese"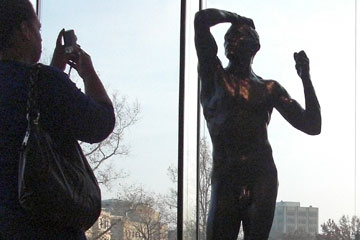 One of my favorite spots in the new East Wing is the glass box that holds a wonderful assortment of Rodin sculptures against a panoramic view of the surrounding University Circle.
As I sat among the beauty and read my book, another visitor recorded her encounter The Age of Bronze.
[Ed. note: the Wikipedia entry linked above didn't include the Cleveland Museum of Art as having a copy of the sculpture.
Since the point of Wikipedia is to allow anyone with knowledge of the subject to write/edit entries, I was quickly able to edit the entry online and correct the error.
My first shot at writing in Wikipedia felt very democratic and empowering.]
Hieroglyphics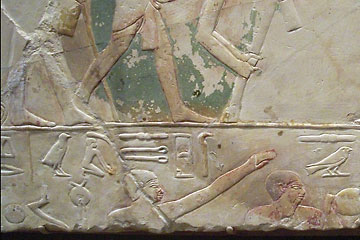 Since we'll be talking about symbols in the next Intro to Visual Communication class, these Egyptian symbols caught my eye.