JULY 31, 2010
Cliffs of Moher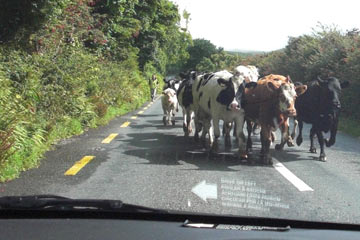 One of the charming—and stressful—things about driving in the Irish countryside is that you never know what's around the next bend in the narrow road.
Near the beginning of our three-hour drive to the Cliffs of Moher we had to yield, not to a gigantic tour bus, but to a herd of cows and their human guides.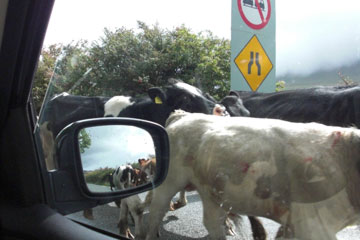 .
---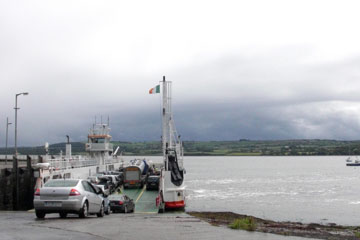 Driving onto the Shannon Ferry at Tarbert. The 20-minute trip reminded me a lot of taking the ferry to Kelleys Island, although the ferry itself was twice the size.
---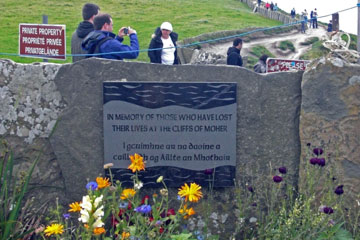 The Cliffs of Moher are Ireland's Niagara Falls: the natural wonder that every tourist has to visit. We joined hundreds of other cars in a huge parking lot, then walked across the road and up the hill to see the view that truly was spectacular.
At the end of a walkway is this sobering reminder of how dangerous it can be to walk along the edge of the 600-foot high cliffs. Note the big Private Property signs that forbid anyone from walking beyond this point.
Also note that many (I'd say at least a third of the people who get to this point) climb over the wall and walk along the unprotected cliff edge which you see in the background above. Some are blown over by gusts of wind, others deliberately jump. We were reminded of this by another sign we saw listing the number of a suicide hotline.
---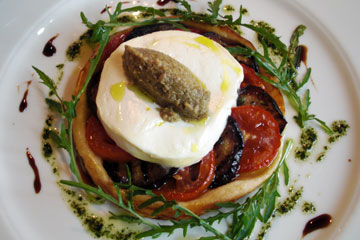 We planned to stay in tiny Doolin, considered a hotspot for traditional Irish music. No vacancies there, so we spent the night in Lisdoonvarna, a nearby town.
Our B&B host recommended the food at the lovely Wild Honey Inn. I ordered a very un-Irish eggplant dish that looked and tasted great.
After dinner we went to the Rathbun Hotel where we enjoyed traditional music and a friendly crowd.
---