APRIL 28, 2009
Mixed bag of Web goodies
Dylan's new album
Saw a couple of rave reviews today for Bob Dylan's just-released album, Beyond Here Lies Nothin'. Since I generally like his music I was all set to see if I could buy it on iTunes when I thought maybe I should try listening to a song or two before committing my cash.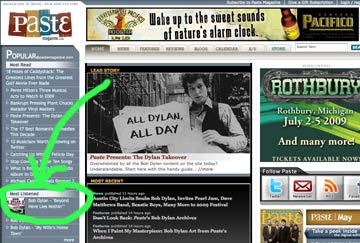 A quick search turned up the whole album streaming free at Pastemagazine.com (look in left column under Most Listened).
I'm now on my third time through it, and I'm not totally sold. The sound is old-fashioned blues/bluegrass; the lyrics, kind of sentimental at times. Don't think this one will end up as one of his greatest hits.
Still, if you like Dylan you definitely need to give it a listen. Tell me what you think—click "Comments" at the bottom of the page.
Fun & addictive
Somehow after Dylan I ended up at Oddee.com—not sure how. Once on the site, which covers "the odd, bizarre and strange things of our world," I couldn't break free. It's nothing more than an addictive collection of lists of goofy stuff: 12 Amazing Chewing Gum Structures, 15 Failed Predictions About the Future, 14 Sculptures Made of TIres, and on and on. While I was typing this paragraph I got sucked into an article called The Death Star of Minsk...that's just how it works.
When you wonder where that time went when you were supposed to be working, remember, I warned you it's addictive.
Now for something useful
To make up for the time you wasted at Oddee, check out PocketMod, a website where you can create your own little pocket notebook/calendar/organizer/etc. from a single sheet of paper.
Start by picking a template for each page. You can choose ruled lines (like a notebook), several sizes of grids, calendars, to do lists, shopping lists, and more. Using a simple interface, just drag the template you want to any of eight pages. Once you've arranged the pages as you want them, print the page, fold it into a small book, and you're good to go.
The only slightly tricky part is the folding, and the video shows how exactly how to do it.
Top | |