APRIL 29, 2009
Car styling: "portholes" aka:
"Hillbilly Go-Faster Holes". That's what we called them when I was a teenager.

A couple of days ago I pointed out to Joanne the latest version of Buick's traditional styling feature as we passed a late-model Enclave on the highway. This picture, straight from the Buick website, is a glamour shot of what we saw, "Buick's signature portholes."
You'd hardly recognize them as what started in 1949 as actual holes in the fender that let air in to cool the engine. At this point they were called Ventiports, according to Wikipedia, which discusses them in detail.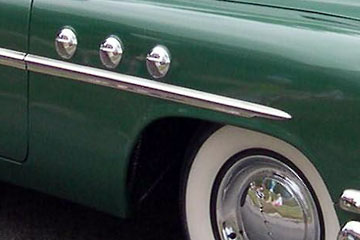 This picture of a 1951 Buick Special shows how they used to look. Already they were only decorative, not actual holes in the fenders.
The Ventiports...um...portholes became part of Buick's brand identity, changing shape over the years until they disappeared from 1959 to 1961. Since then they've been off-again, on-again. You can read their complete history in this article by Donald Pittenger.
Point is, they are and have always been styling devices with no actual function. They are just there to make the car look...cool? sporty? fast?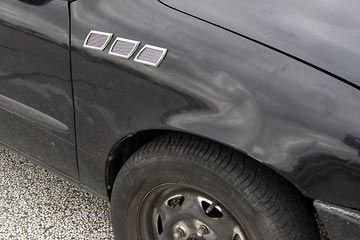 Anyway, if you liked them on a Buick you might like them on your Ford or Chevy, and automotive parts manufacturers have long been happy to help. Even today you have lots of choices.
You can just buy a few "Hillbilly Go-Faster Holes" and slap them on your front fenders, thus making your car way cooler. Today in the parking lot at Edgewater Park I saw this classic example.
Top | |