JULY 30, 2010
Dingle Peninsula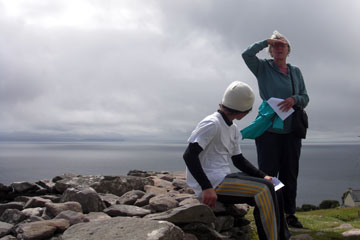 This morning we did the mandatory driving tour of the Dingle Peninsula, or as the road signs name it, the Slea Head Loop. We used the guide by Rick Steves, with mixed results.
The good things about Rick's description is that it includes precise distances in kilometers to let you know where to stop and look.
The bad thing is that our rental car's odometer didn't match Rick's. This made for much confusion and a few testy exchanges between driver and navigator. Still, we saw a lot of the historic sites, one of which we are visiting in the picture above.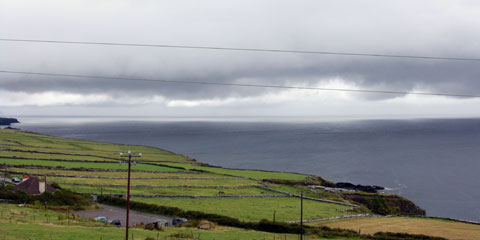 These pictures also show you the typical weather we encountered throughout our stay in Ireland. Gray and cloudy, with patches of sunshine that came and went.
---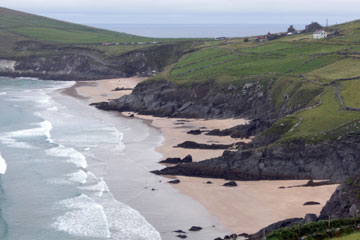 Further along the road.
---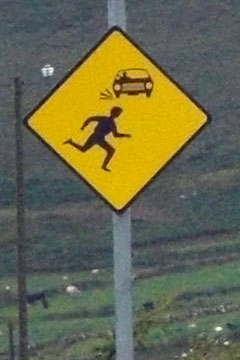 Look out!
For what, we never could decipher. If you can tell me what this sign is supposed to tell the motorist or pedestrian, please click on "Comments" below and let me know. I'm baffled.
---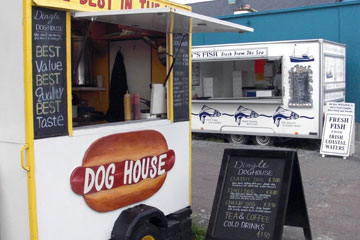 Last night we walked past the (closed) Dingle Dog House and vowed to return for lunch today. These food trailers remind me of those that you find in Portland and other cities in the U.S.
Xavier and I agreed that these were pretty good dogs. Our raves even convinced Joanne to try one. More details here.
---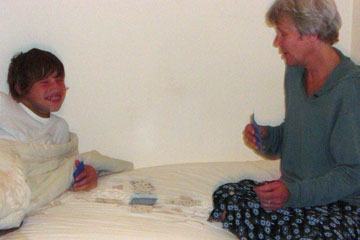 Every night ended with a marathon card game between Xavier and Joanne. Thankfully at least one of the adults likes to play cards, since it's a favorite pastime of X.
---