JULY 26, 2010
Day two, Dublin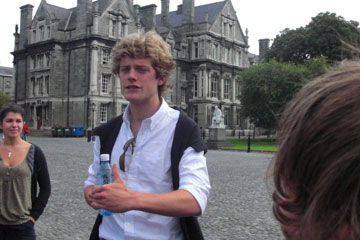 One "must see" thing in Dublin is the Book of Kells, a lavishly illuminated manuscript of the four Gospels that dates from the year 800. It's on the Trinity College campus.
500,000 people a year visit, and that number gives a clue as to the problem: on any given day there are only two pages on display, and lots of people are trying to see them.
Here's my advice: pay an extra euro to get the Trinity College campus tour + admission to the Old Library where the Book of Kells is displayed. Our guide, a recent graduate of Trinity, was smart and funny. Even Xavier enjoyed the tour.
Be sure to get up early to be there for the first tour at 10:15 a.m. At the end of the tour we got to the Old Library before the big crowds hit, and were able to crowd in to see the actual manuscript without pushing and shoving. I went back a half hour later and the crowd around the display case was three-deep, and territorial as all get-out. I'm please to say that, judging by the languages I heard, Americans weren't the worst of the lot.
One of the best things our guide did was put the Book of Kells in context. He told us that because of its relatively small physical size and the fact that it doesn't move, light up or make noise, we would probably be disappointed at first. He then emphasized that artistically this was a break-through project for its time. The work was state-of-the-art, cutting edge art in a day and age when most people were just struggling to survive to see another dawn.
---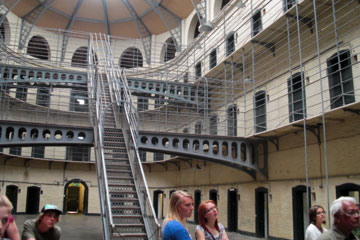 Our other stop for the afternoon was Kilmainham Gaol (Jail). It's a regular stop for tour buses, but we took the #123 city bus for only a couple of euros.
Kilmainham was built as a model prison using the latest ideas of "separation, solitude and supervision." As you can see in this picture, all the cells were around the edges of a rounded rectangle, meaning they could all be seen from this central area.
The straight staircases and bridges were there so that guards could race to the scene of any trouble. Not in view are spiral staircases used by prisoners. This forced them to move slowly, one at a time.
---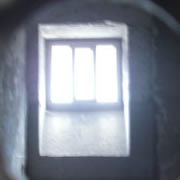 The halls of Kilmainham even in mid-summer were cool, damp and gray. We passed door after door, each with identical peepholes that looked into tiny cells with a window for light and air. Intended to hold only one prisoner each, in reality that may have had up to five occupants.
The prison was grim, but that was no surprise. It was shocking to hear that young children as well and men and women might be confined here. Stealing a coat could be enough get you to Kilmainham.
---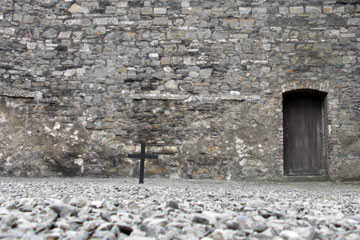 The guided tour of the jail ends in this prison yard. Black crosses mark the spot where many Irish nationalists were executed after the 1916 Easter Rising.
It was clear from our guide's voice that the history marked by these stones and crosses is very much a part of the national identity. It definitely felt like we were on hallowed ground, especially here in the yard.
---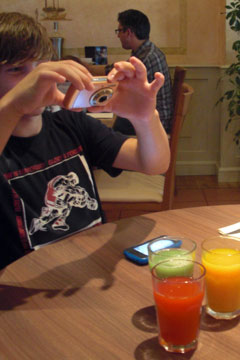 Following in his grandfather's footsteps, Xavier snaps a photo of colorful glasses of juice we ordered at the Sand Bar, a restaurant near the B&B we stayed in our second day in Dublin.
We followed the healthy juice with a couple of pizzas, the first of many we'd have in the next week. Pizza was a meal we could always agree on that was both tasty and relatively inexpensive.
I think it's fair to say that none of us became fans of traditional Irish cooking.
---