JULY 27, 2010
Drive to Kilkenny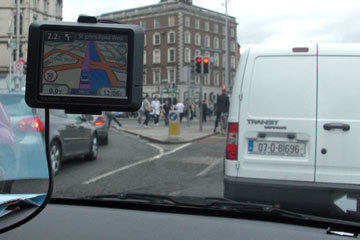 We picked up a tiny Hyundai I10 at the car rental agency, resisted the sales pitch for a larger SUV, paid extra for GPS after reading about poor roads and signage in rural Ireland. Now we're off to Kilkenny.
You can't tell in this picture because we're on a one-way street in downtown Dublin, but I'm having my first experience driving on the left side of the street. The small white arrow in the bottom right of the photo is actually a sticker on the dashboard that reminds the driver to keep to the left.
The car was great, remarkably comfortable and peppy for something that small. The GPS, not so good. It was right maybe half the time. We got our first hint of the problem when our B&B host in Kilkenny didn't recognize any of the landmarks I was describing to her over the phone. "Oh," she said "You're not in Kilkenny, you're in Ballyragget. The GPS often sends people there. Just look for road signs to Kilkenny and follow them."
We exiled the GPS to the glove compartment for most of the trip, pulling it out in desperation trying to find our way out of Tralee and later back in to Dublin.
---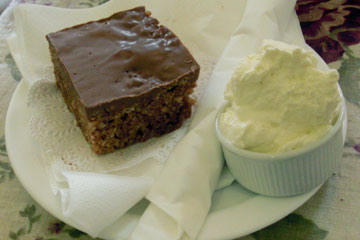 The GPS' errant ways brought us through a charming little town called Abbeyleix where we stopped for coffee. I ordered this chocolate delicacy, no doubt an Irish specialty. The whipped cream was a very nice addition.
When I asked for the secret recipe, our server shrugged and said it was just a Rice Krispie treat, made with melted Mars Bars instead of the usual marshmallow cream.
We're importing this recipe into the U.S.
---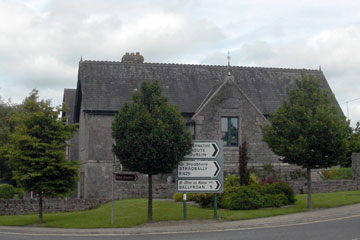 The local historical museum, a former school at the edge of town. We learned that mills in Abbeyleix made some of the carpets for the liner Titanic.
In front of the building you can see our GPS alternative. Unfortunately not every intersection has signs this clear and visible.
---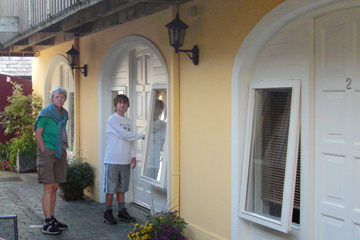 Our B&B, Butler Court, was a pleasant mini-motel in the heart of Kilkenny. Bob the dog was a friendly companion anytime we were outside, and Yvonne, our host, gave us lots of options for things to see and do in the area.
Breakfast was fruit, yogurt and scones, so we had no opportunity here to try black pudding. See below for our experience with this Irish breakfast delicacy.
---
Another Irish treat: black pudding made with pig's blood. We opted out of having it for breakfast yesterday but here got a gourmet version at a restaurant in Kilkenny.
Xavier and I figured that having it with currant jelly and served on a potato pancake would make it more palatable. He took one bite and declared it his last. I ate the rest but can't say I really enjoyed it. Must be an acquired taste.
An "Irish breakfast" often served at B&Bs includes both black and white pudding, the difference being the pig's blood. Both are fried, sort of what Americans do with corn meal mush. Well, some Americans, anyway.
---