JULY 25, 2010
First day in Dublin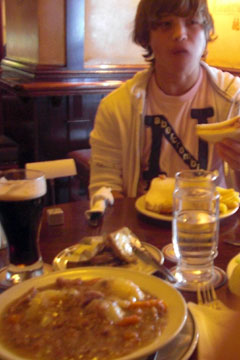 Pub food at The Duke. In the foreground you see my bowl of Irish stew, with brown soda bread behind and a glass of Guinness next to it. Meanwhile Xavier is munching on a ham and cheese sandwich on white bread.
The stew tasted a lot like what my mom used to make. Meaty, mushy, good but not memorable. Like the Guinness, I wanted to try the "authentic" stuff first. I have to say, though, I'm not a big fan of either.
---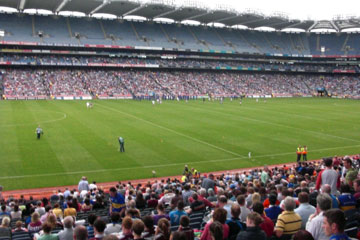 A must-see in Ireland: a hurling match. Think of it as rugby, soccer and hockey combined. Since games are played on Sunday I lobbied hard to go to one today. It might be our only chance.
Even though it's an amateur sport, the ticket prices reach NBA levels, at least for today's All-Ireland Semifinals: 111 Euros for three of us (about $150)!
The game itself and the stadium atmosphere were less exciting than the guidebook had promised. Still, I was more than disappointed when one of us fell asleep during the match and the other insisted that we'd seen enough when halftime rolled around.
Here's what we missed, according to IrishCentral.com:
Tipperary overcame Galway in the best hurling game so far this year by 3-17 to 3-16 in a thrilling match at Croke Park. Galway led by two points with minutes remaining but Tipp staged a storming comeback to win at the wire.
Damn!
---

Walking on O'Connell Street towards the Dublin Spire and ultimately Croke Park for the hurling match.
We tried taking a city bus but couldn't find the right stop or somehow missed it. Several Irish folks told us we'd be better off walking, so we did. Forty minutes later we weren't so sure. We took the bus back.
---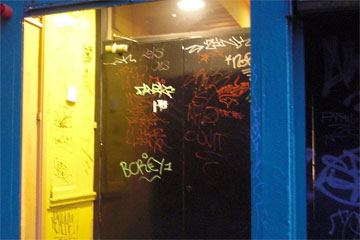 Graffiti on a Dublin street. Yeah, it's vandalism, sure, but the vibrant color and visual energy are undeniable.
---