A lot less work, but is it better?
A Google Alert for "interactive media" tipped me off to a website that may make all the time & energy I put into this site seem like a waste. Eachday.com may be just what I've been trying to create on my own: a comprehensive collection of pictures, sounds and videos organized day by day. I signed up for a free account today to give it a try.
Eachday promises that it "does things that other services don't, like looking at the date your photos were taken and automatically putting them on the days they belong. Visualize everything with Eachday's unique Memory Stream. Organize beyond days with automated tag-based Collections, and much more."
It also allows you to create different levels of access. You can set up some of your photos to be available to the whole world but make others password-protected so you can decide who will see them. Seems well thought-out and easy to use.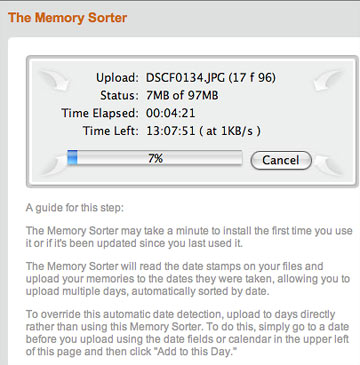 Getting started couldn't be simpler: drag your photos, videos and sound files to the "Memory Sorter" and they are uploaded and sorted by date based on each files date stamp. I dragged over 90 photos from my iPhoto Library along with four very short videos.
The upload took about 25 minutes, giving me time to go downstairs to get a glass of icewater and put away the dishes. When I came back to my computer the photos were all arranged by date. Sort of.
Instead of reading individual dates on each picture, apparently the Memory Sorter was fooled by the date of each "roll" in iPhoto. Probably if I change my iPhoto settings I can correct this. As it is, I have to select each photo individually, check its date in iPhoto, and manually change the dates of the Eachday files. This isn't all bad, in that while doing this I can also give the photo a title and add comments. It does take a fair amount of time.
Take a look at my first attempt at using Eachday. Strangely, Memory Sorter put the videos—all of which were filmed on Aug. 2nd—on Aug. 12th. It grouped all the photos on Aug. 10th or 2nd. The photos on Aug. 8th are the ones I rearranged manually.
Here are things I like about Eachday:
User-friendly
Well-organized
Flexible
Accesible via the web, meaning I can update no matter where I am
Makes putting video on the web a no-brainer
What I don't like:
Glitches with Memory Sorter
Generic look to pages (probably will allow customization in future versions)
Limits to uploads and advertising if you choose the Free account
Won't upload WAV (audio) files
So I don't know. Should I go with quick & easy or continue hand-making web pages? Or should I combine them?
I'd like to hear your thoughts on this, just click on COMMENTS below.
TOP | | |