On vacation - London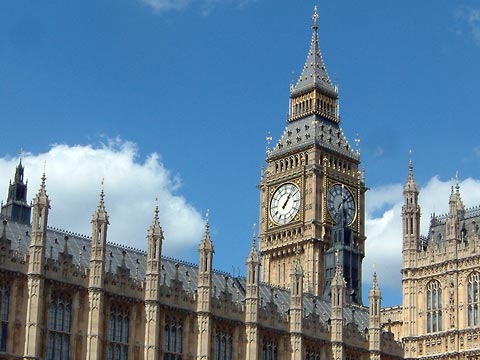 Even though it's a typical tourist photo, I had to include this because 1) it was a beautiful sight on a gorgeous day and 2) we learned that this is not Big Ben.
Our sardonic guide on the Thames River cruise explained that even though tourists like to call this clock on the Houses of Parliament Big Ben, the name actually refers to the 13 ton bell inside the tower.
This wasn't the dumbest mistake we made in this part of town, however. That was when I asked the London bobby standing at a gate nearby where to enter for evensong services.
He pointed out with a disgusted look that we must be looking for Westminster Abbey, not the Houses of Parliament.
Well, that explains the machine-gun-toting guards in the driveway anyway. I thought they were kind of unusual for a churchyard.
To get on the cruise boat we'd waited more than a half hour to buy tickets, then another half hour in the queue to get on the boat. Not the best way to spend the afternoon, especially after we'd waited in another queue earlier for 45 minutes to buy half-priced tickets to see Stomp that evening. But despite the long wait, the cruise was fun, Greenwich was pretty, although that whole prime meridian thing... overrated.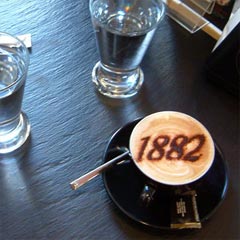 We got back in time to have a cappucino before finding our way to the theater where Stomp was playing. The coffeeshop, touted as "best in London," made the prettiest cappucino I've seen, with chocolate dusted on the top through a stencil of their logo. Flavor-wise, I've had better.
Stomp, if you're not familiar with it, is an percussion/dance performance group that use ordinary objects as instruments. Think brooms, plastic bags, matchboxes, lighters, garbage cans and the souncs they make. Very high energy, rhythmic, and fun.
We'd seen a performance in Akron several years ago, but this time we were close enough to get a good look. The tickets we got at the half-price TKTS booth were only six rows back in the lower balcony, much better than where we were the previous time.
The show had enough new material to make it seems fresh, a bit more comedy, I thought, and a very energetic cast. The audience really got into the participatory encore led by the cast, and everyone left with a smile.
For a taste of what a performance is like, here's a video of a section near the end.
We ended our evening by stopping at Wagamama, a high-tech Asian noodle restaurant that we'd come to like on a visit to London years ago. At that time there were only one or two Wagamama locations. Now there are 75, most in the UK, but others scattered around the world, including two in Boston.
The restaurants are very modern and sleek inside, and servers use handheld PCs to send your order to the kitchen. The food is uncomplicated but tasty. I had miso soup and gyoza (fried dumplings) while Joanne had a veggie dish. We've discovered that Wagamama desserts are really yummy, not what you expect from a noodle place, so we each got one. Joanne had a ginger white chocolate cake and I had coconut ice cream with mango sauce.
TOP | | |