Over and back again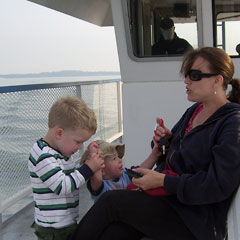 Today I rode the ferry to the mainland and back, driving Sharon and the kids to the Cleveland airport so they could go home to New Hampshire.
It's a sign of the times, I guess, that we can only work out a two-day window to get together for a "vacation." Danny and Xavier went home Sunday around suppertime, and plans called for Danny to leave about 9 pm from Cleveland to drive to New Jersey for a job. Misty and the two youngest left on Saturday for a family reunion in Parma.
A day or two together is better than nothing, but leaves a lot to be desired. Somehow we've all bought into a too-hectic lifestyle.
TOP | | |