Lunch downtown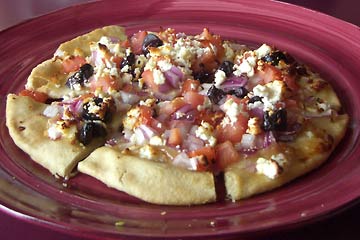 We walked into town today and had lunch at the Captain's Quarters, formerly the Winking Lizard and before that something else. It has a pretty much all-Greek memu, so Joanne ordered a gyros sandwich while I had a Mediterranean Pita Pitza.
This was pretty tasty, with feta cheese, tomatoes, olives and onions.
For supper I had leftover pasta and eggplant Parmesan from last night's anniversary dinner at the Island House. 37th anniversary, by the way. Hard to believe it goes by so fast.
TOP | | |
Mayfly update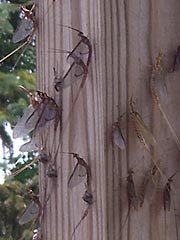 A couple of days ago we had a few mayflies on the screen door and didn't know if that was the start of a major invasion. Two days later I think we can probably answer that with a no.
If you've seen 'em before you know that this cluster of mayflies isn't much. In a "bad" year you'd hardly see the wood, the mayflies would be packed on it so tightly. This year's crop seems to be concentrated mostly downtown—we've hardly had any here at the house since the first day.
Dirving down Lakeshore tonight there was a little snap, crackle and popping as we drove over dead insects, but only in a couple of places. So it looks like we'll get away without the clouds of mayflies that quickly turn into the piles of dead mayfly bodies.
That's mostly a good thing, but I have to say I kind of miss the little buggers. They're annoying but a regular part of a Kelleys Island summer.
TOP | | |