Thoughts in passing
Walking down Fulton, then West 25th on my way to Tower City for a movie, walls and windows offered a few words of wisdom.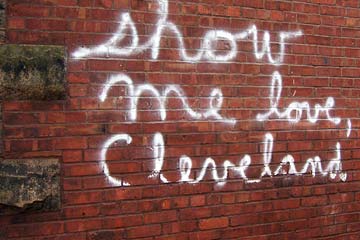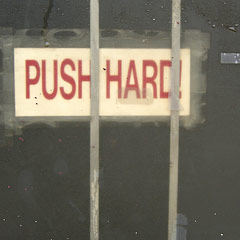 Upriver, the old way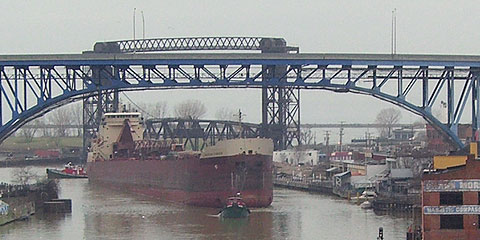 You don't see this much anymore, two tugboats helping a freighter make its way up the Cuyahoga River.
These days most ships have bow thrusters that let them navigate the twisty river alone. Seems almost too easy.
This one may not have been under power, thus needing towboats for everything. Later in the day I saw it tied up just across from Tower City (not far upriver). It might have been more economical to move it this way than to fire up the ship's own engines.
Dinner & movie
As a sort of celebration before Joanne goes to New York (next week) we had dinner at the Flying Fig on Market Street. Great food, as usual, but service was pretty confused since their computers weren't working.
We ended up with a hand-written receipt to commemorate our dinner. Still, with all the hassles of an un-wired system they got us out in time to get to the 9:30 movie at the Film Festival.
A Map for Saturday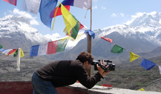 This documentary of 25 year old Brook Silva-Braga's yearlong trip around the world shows the interesting and sometimes exotic places he visited, but it's about much more than that.
It's about the people he met, and most importantly the attitude they shared that led them to give up 9 to 5 lives to live an eternal Saturday. It's about friendship and loneliness, about what you gain and what you lose when you spend an extended period of time alone in unfamiliar places.
Silva-Braga attended the screening and answered questions afterwards, cheerful, honest and sincere, a lot like the guy in the movie. If you have any interest at all in travel—or in thinking about what's important in life—see this one.
Watch the trailer for A Map for Saturday.
The Only One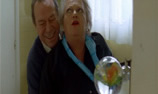 In the morning I saw this Dutch film about an 80-year old who's facing a move to a rest home... but carrying on with a friend's wife on the side. When an attractive younger women moves in across the street, she strikes up a friendship with our hero. He also has a young housekeeper who vacuums in fishnet stockings. What's not to like?
As someone who managed to live through the 60s Sexual Revolution without being a participant in it, I thought the story of this late-bloomer might cheer me up. But instead, the movie was a mix of depressing reminders of my own father's decline and a sobering look ahead to my own fate. Even the happy ending of him selling his house to set out on unspecified travels didn't lift my mood much. Thinking about growing older is frankly pretty scary.
Festival ambiance
The Film Festival attracts a lot of people who love movies, and love talking about them. They buy passes for the whole week, or blocks of 10, 20, or more tickets. So before each film starts there's often lively conversation in the auditorium as people exchange comments on what they've seen or intend to see. It's a great way to get tips on films you might enjoy but otherwise know nothing about.
There's also some horse-trading that occasionally goes on: