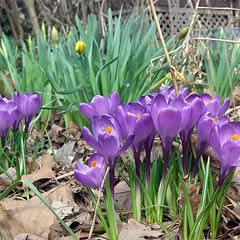 Sunday morning
It's sunny and sort of warm, springtime on the Near West Side. I love walking into my backyard—especially in the morning when things are quieter—and listening to the sounds of the neighborhood.
Although I don't go to church, I like hearing the bells from the two or three nearby churches. It's one of those pleasant human touches about being in the city that helps to offset the frequent unpleasant human touches. Like our neighbor on 31st Place who's prone to 2 a.m. screaming fits.
You get used to all sorts of things, like the slamming of doors. I can tell which neighbor is leaving the house by the sound the door makes. Ours, too, which announces itself with a squeaking sound that I suppose could be eliminated with a bit of oil. But why?
One summer when our neighbors on both sides were on vacation, and Joanne was gone too, it was so quiet I felt uneasy. I really missed the daily sounds of human activity.
Wonderful stuff
When I hear about the same thing several times from different sources I'm pretty sure it's something worth paying attention to. The latest is the work of Gregory Colbert, seen in this video and in even greater depth at the Ashes and Snow website. Mr. Colbert's vision of people and animals interacting in magical ways is shown through a book, photo exhibition, film and an incredible website.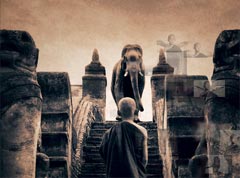 A student shared the website with our Interactive Media class as an example of interactive storytelling, and it's as beautiful an example as I've ever seen. The music and the images are haunting and poetic, while the random and fluid interface that you explore with your mouse is appropriately mysterious.
I could try to describe more, like how the still images sometimes morph into motion, or how the narrator's voice and the music create an environment that's both peaceful and vaguely disturbing.
But it's much more important that you experience it for yourself and draw your own conclusions: Ashes and Snow. Be sure to visit the "Enhanced Site." You'll need to wait occasionally for sections to load, but it's worth the wait. Be prepared to invest some time with the site...it's worth it.
This statement from the website gives you an idea of the magnitude of the entire project:
The Ashes and Snow exhibition includes more than 50 large-scale photographic artworks, a one-hour film and two nine-minute film haikus. None of the images have been digitally collaged or superimposed. They record what the artist himself saw through the lens of his camera. While Colbert uses both still and movie cameras, the images are not stills from the film.
Wow.