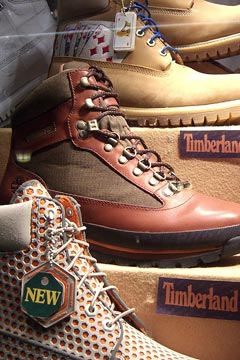 Hiking? Maybe. Woods? Probably not.
I remember when Timberland boots were associated with camping, hiking, woodsy sort of things. Take a look at the top and bottom styles in this display in a store window at Tower City in downtown Cleveland, and I think it's safe to say it's not about the woods anymore.
The royal flush is pretty strange—for a boot, that is—but the polka dot model may be stranger still. It's two layers of leather, one performated with a pattern of hexagonal holes. Get those bad boys muddy and you'll have a pretty hard time getting them clean again.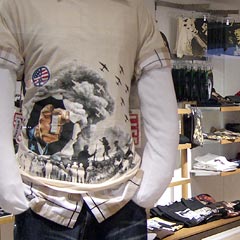 Looking at the styles in Tower City stores that obviously cater to urban youth is an eye-opening experience for me.
I was happy to see that the store that featured clothing and snowboards showing American bombs a few weeks ago has toned things down a bit. Now the bombers are tempered by a peace sign (?).
Cloudy day
The view northeast from the upper Edgewater bluff. Cloudy, but subtle pastels look kind of impressionistic.
The temperature was probably in the 40s, not terribly cold, but the wind made it feel a lot worse.
Today was my first walk of the week. Coming back from spring break the week before, I feel more behind in everything than usual. Didn't have any other day when I could even get a half-hour in before work.
At the Film Festival
9:45 a.m.
This morning I gave a quick pitch for Tri-C as an introduction for a film being shown to a roomful of high school students at the Cleveland International Film Festival. The film was Runner's High, one of those "ghetto youth find salvation through sports" movies. I usually avoid these because they tend to be kind of predictable, but I got caught up in this one and enjoyed it. I have to admit that when the teens crossed the finish line in the Los Angeles Marathon, the goal they had been training for, I got sort of misty-eyed.
An added attraction was sitting among a couple of hundred teens, mostly middle-class white kids, with a few smaller groups of African-Americans. I kept trying to gauge their reactions, and judging by the relatively few cell phones I saw in use, they were caught up in the film, too.
9:45 p.m.
Joanne & I went to see the World's Best Commercials, which makes me almost want to watch more TV just to see them. Almost. Sad to say, though, most of the winners are from Europe. Partly I think it's because there's room for more daring content that would be considered offensive in the U.S. More of an issue, though, is the length: most of the winners were 30 seconds or longer, and it seems to me that American TV ads are more of the 15 second variety.
A great web success story that I recognized but probably most didn't is that the hilarious "30 Second Movie" animations used as a series of VW ads started life on Jennifer Shiman's Angry Alien website. You don't need VW to enjoy them, and enjoy them you will!
BTW, if you enjoy Jennifer's work, you might want to take a look at her desk.