Job, obsession, or fun?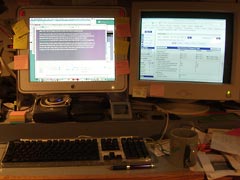 Keeping this site current—a new entry every day—is all of the above. Even a minimal comment, like this one, ends up taking a half hour. Partly it's my own fault, since I'm still building the site individual page by individual page. This means that each day I have to modify the navigation links at the top, change the page title, etc. I spend too damn much time looking at those screens.
I could simplify this a bit by using Dreamweaver templates to create a standard page with certain editable areas. But this wouldn't actually save me much time and I've been burned by template glitches in the past. It's almost as fast to do a "Save As" each day. Since I decided earlier to not go back and update earlier pages when I add new features, this may be better done without a template anyway.
What I really need to learn is how to make the site at least partly automated. I'd love to connect it to databases for the sunrise/sunset times, temperatures, etc. so that this info was automatically pulled into the appropriate areas each day. It seems a real waste of time for me to constantly have to check Wunderground.com to get this info.
Anyone out there want to help with this? Email me your suggestions.
Much of the time, though, is spent writing (and rewriting) the copy, choosing and cropping the photos, and selecting and editing the audio. Soon I hope to add video as well. This is actually the real fun part for me, and can easily push a day's session to an hour or more. Seven days a week this adds up to another workday.