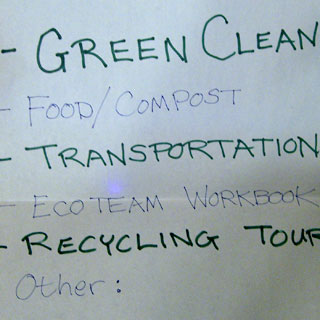 The Gang Green rides again
Today was the second meeting for our newly formed, mostly neighborhood group of folks trying to live more green, sustainable lives.
The meeting started off with Cassandra Moore, a recycling expert from the City of Cleveland answering all of our questions about how recycling works in Cleveland. And other than the fact that we have to take our recyclables to big blue & yellow dumpsters scattered around the neighborhood, it's a pretty great system.
No separating of materials is needed, so you can bring all your plastics (1 through 7), aluminum, steel cans, glass bottles, paper and cardboard and just throw them in the dumpster. Can't get much easier than that.
Word is, and this was confirmed by Cassandra, that the city will soon try restarting the curbside recycling system using plastic bins that will be provided for residents.
A couple of magazines were recommended: Orion, for an article about nature and education that fits with Joanne's scheme for a school based around sustainability education, and Grist, environmental news with a sense of humor.
There also was talk about CityFresh and Cleveland urban gardens.
This list above shows ideas for next month's meeting topic. The group chose Food/Compost as a good spring topic.