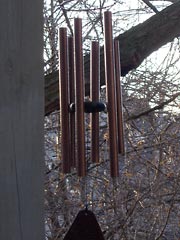 Thursday morning
One of the things I usually do once the coffeemaker is gurgling its way to a fresh pot, is to walk out onto the back deck. Today it was sunny and the birds were chirping away. I thought I'd record their morning serenade to compare it to the song of the cardinal from the other day.
No such luck. Just after I started recording, the wind stirred the chimes into noisy action, overpowering the birdsongs. Still, the chimes have a beautiful sound, so no problem there.
I would have sworn I saw the seconds ticking away on my camera's screen after I pressed the shutter release, but when I went to transfer the audio file to my computer tonight there was no audio file. So it's after midnight and I have nothing to use.
Maybe tomorrow.