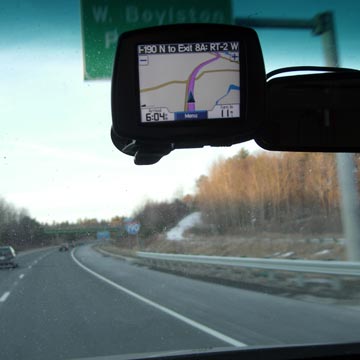 Up the hill with Jill
For Christmas Danny got this GPS navigation system that we put to the test on the drive to New Hampshire. You can see how it shows the route in purple, along with other features (roads, lakes, rivers).
At the top you see the current part of the trip—we're on I-190 North headed toward Rt. 2 West. At bottom left is our expected time of arrival, and at right is the distance to the next turn (11 miles).
The thing worked very well, even for me who'd never used one before. If you want, you can have a voice describe each step of the way. In this case, the voice is "Jill."
We had a good trip both there and back with Jill. She only screwed up one time, taking Danny on a side trip to Lorden Avenue instead of to the Lorden Plaza shopping center where Sharon and I were waiting.
The bridge from the bridge
Somewhere in New York state there's these side-by-side highway and railroad bridges. This kind of structural ironwork can be quite beautiful in it's own way.
Part of the way on I-90 you parallel the Hudson River, which is even prettier from the train. I've taken Amtrak—the Lakeshore Limited—many times to New York and Boston, and rolling alongside the Hudson is the best part of the trip. Depending on the direction you're heading (and the schedule, of course) you might get to have breakfast in the diner when you're in this area. Makes lingering over coffee a good idea.