Cold feet
Beautiful snow yesterday. With the roads a little treacherous I decided to walk for about an hour instead of driving to CSU to run at the Rec Center. I headed down to the Cuyahoga via Franklin Avenue east of W. 25th St.
Bundled up with vest, scarf, coat, hat, hood, glove liners & gloves I stayed fairly warm as I trudged along. Shoveled sidewalks were rare, so I spent most of my time in the street, trading irritated glances with drivers as they passed, driving far too fast in my opinion.
When I finally got to the paved walkway of the new Scranton Flats section of the Towpath Trail, I actually breathed a sigh of relief. A couple of photographers with serious zoom lenses were my only companions as I watched a waterfowl United Nations sitting, swimming and flapping on the river.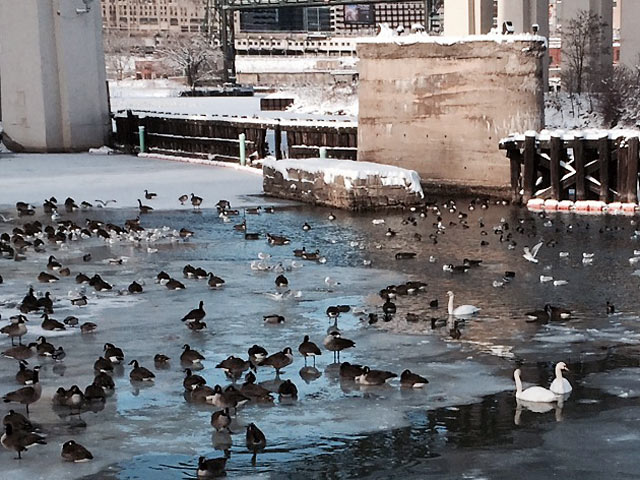 In line with my plan to do one piece of art every day this week, I used a similar technique to yesterday's to make this animated GIF called Cold Feet: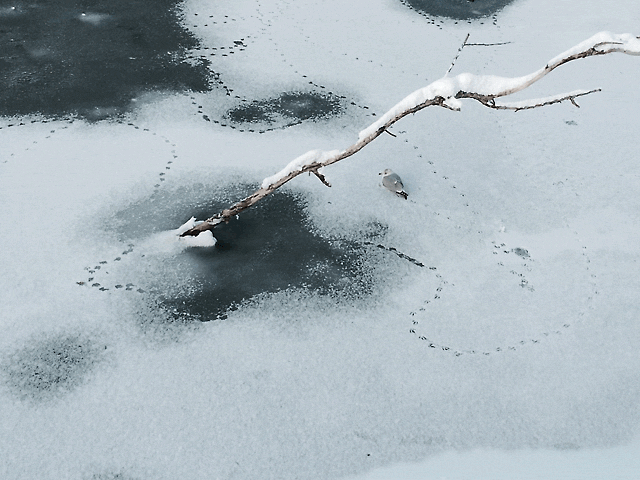 [ See animation in separate window ]
---
Arizona memories
I had two photos from our November visit to Arizona that summarized something I really enjoyed: sitting in the sun with a cup of coffee and a book. I thought I'd add a page from my sketchbook, too. This made for a pretty nice animation, but the file size was way above the 1 Mb limit I've adopted to keep download time reasonable.
Out went one of the photos, down went the number of colors in the GIF. The overall feel is still there, just in more subdued form.
Started this one on Tuesday, made myself finish it first thing Wednesday.
[ See animation in separate window ]
---
Note to self
There's a little Post-It note stuck to my monitor that says SURPRISE + CLARITY = DELIGHT.
This is my attempt to make my feeling about it visible. In two hours or less.

[ See animation in separate window ]
---
Advice to self
Another saying that's becoming my mantra. Easier said than done, but I wanted to share it with the world, as well as to keep reminding myself. And again, in two hours and under 1Mb file. OK, it's 1.008Mb, I cheated a bit.
[ See animation in separate window ]
SEE MORE: My animation project continued for another week.
---