It starts with sunrise
Where I live near downtown Cleveland I don't really see the sunrise. It's there, but hidden by the city. Masked by trees, houses, and Lutheran Hospital to the east. Once a year, though, my view changes. We go to a lakefront cottage on Kelleys Island where for two weeks in June I get to see the sun slowly emerge over the horizon, day after day.
For ten years now I've made watching the sunrise a daily ritual. No matter how late the previous night's festivities, I set my alarm for 5:45 and reluctantly roll out of bed, rain or shine. I might grab a hot cup of coffee as I stumble through the kitchen, if I remembered to to fill the funky old Mr. Coffee and set it on Auto.
Then I walk through the yard to the beach, feet swishing in the dewy grass. I step onto the big triangular rock facing East and I stand with my camera to wait for 5:58, give or take a minute.
By the time I arrive on most days there's a glow on the horizon. As the sun slowly creeps upward I snap a picture, maybe record a few seconds of video. Some mornings all I see are clouds, forcing me to remember exactly where that little point of land should be on the left when the sun is centered in the viewfinder.
If the weather is agreeable I'll sit and gaze at the lake, watching for the stream of geese flying to the other side of the island as the sun rises. This, Joanne's "bird parade," has become for us the official start of the day.
But who am I kidding? I almost always end my morning ritual by crawling back in bed, enjoying that special feeling of grace that I don't really have to be up yet. You know, like when the alarm goes off and you think it's a workday but then realize it's Saturday. Ah, back under the covers.
And then it's over. After two weeks of sunrises I go home with photos marking another summer island interlude. It could end there, but as a designer I feel that I need to share this collection of memories. This passage of time sunrise to sunrise deserves special treatment, so in the past few years I've assembled the pictures in various ways.
VISUALIZING MEMORIES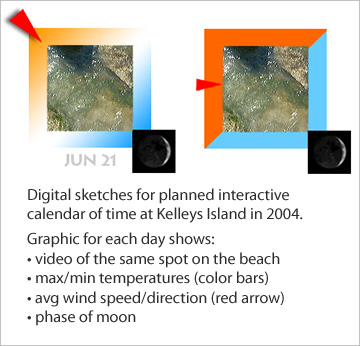 I started in 2004 trying to create an interactive calendar of the days using software called Macromedia Director.
Sadly, this ambitious interactive piece died young. All that's left are these digital sketches, examples of how each day would be shown. You'll see a theme starting that continues in later years: weather.
Weather statistics fascinate me. The actual weather conditions—temperature, wind, rainfall—are reminders of how our days on the island unfolded. So I literally try to put them in the picture.
2008
Abandoning my time-consuming interactive approach, I made it simple. This composite photo adds only the dates (a bit more here).
2009
Not the best year: my little point-and-shoot Casio camera died on the first morning. My iPhone came to the rescue for the rest of the days, and I posted daily photos on my website.
2010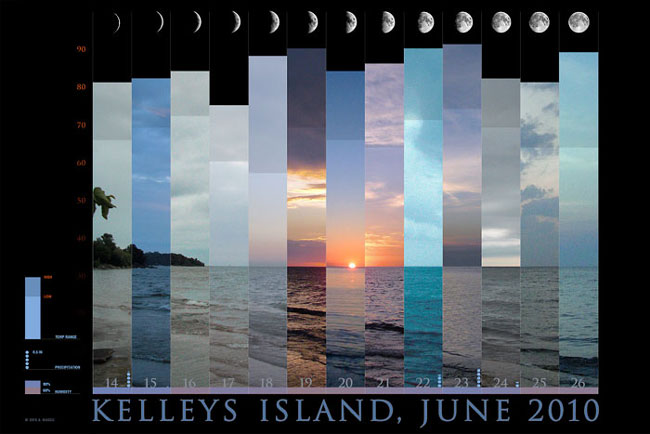 I got more ambitious with this composite also shows high and low temperatures, average humidity (it's an Ohio thing), daily rainfall, and phases of the moon.
2011
In 2011 I posted daily photos starting with this glorious sunrise. Back at home I assembled them into a short video. I also shot a time-lapse video, one frame per hour from 6 a.m. to 10 p.m. every day.
2012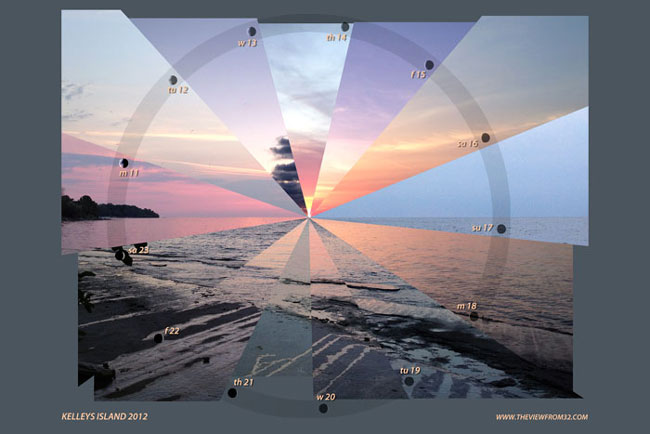 A different take on the composite idea. Less information than 2010, but visually more striking, perhaps. Dates and phases of the moon.
2013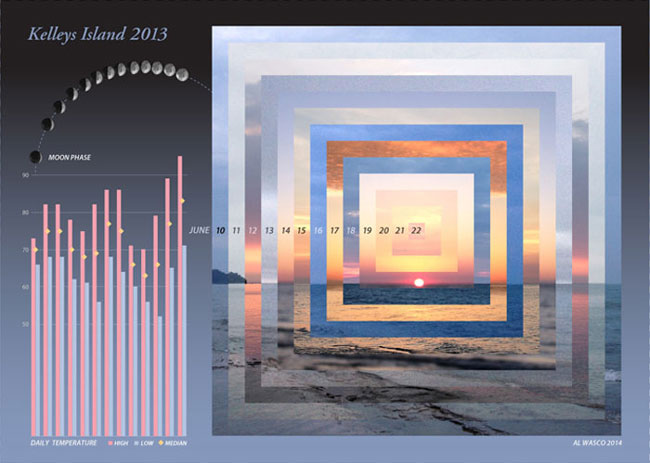 I just finished this one. Maybe more abstract with the images, it revises how the phases of the moon are shown, and brings back temperatures, showing high/low/mean. You can also watch 2013 sunrises as a short video.
So that's it. My goal is to make each year unique, beautiful and maybe informative. Hope you enjoy these memories of island days.
How do you do share your vacation memories?
---