Art can change your life.
Here's how to let it.
Art—any art—at a museum—any museum—can work its magic and change your life, if you let it.
Here's the secret: Look at what the artist did, but love what the artist loved.
To get the details, read this New Yorker article by Joshua Rothman called Alain de Botton's Healing Arts. In a hurry? OK, here's the important part:
...de Botton argues that museums have taken a wrong turn. They should never have embraced as their guiding paradigm the discipline of art history; it's led them to lose track of what actually makes art interesting. Most people, he thinks, care only a little about who commissioned what. When a visit to a museum succeeds, it usually isn't because the visitor has learned facts about art but because she's found one or two works that resonate in a private way.
And further,
But the point is to try and love the things that the artists we love loved. "Don't just love the artist," he said. "Don't just love the work they produced. Love what they loved."
Aha. The key is to love not what the artist did, but what the artist loved.
So let's try it. Come along with me for a quick visit to the Cleveland Museum of Art and I'll explain how it works for me.
We'll start here: It's one of my favorite landscapes at the CMA, a glorious scene of the American wilderness. You can't help but admire the fantastic color and brushwork.
But...what really gets me is how the tiny wisp of smoke coming from the chimney makes me feel lonely and isolated. What courage those pioneers had!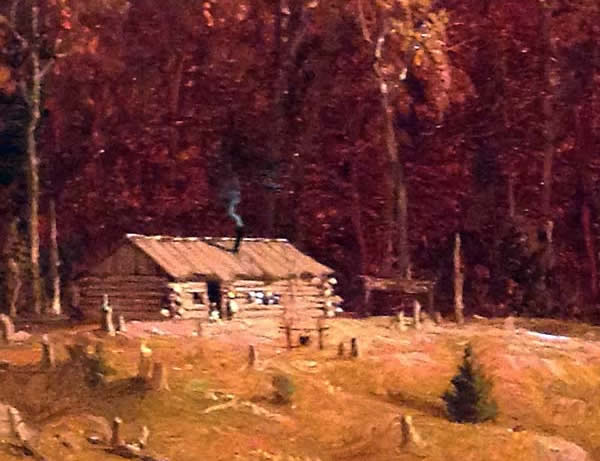 I've been back to that painting again and again over many years, and it always puts my urban life in perspective, if just for a moment.
This is how art can change your life.
So next time you visit an art museum, try to experience its healing power. Share in the joy or the pain or the love the artists brushed or sculpted or molded into their work.
The recipe is pretty simple.
INGREDIENTS
Time: an hour or two works best for me. Beyond that I experience museum fatigue. Your mileage may vary.
Agenda: don't have one. Don't pick up a floor plan or an audio guide. Just wander. Look around for something that catches your eye. When something looks interesting, move closer. Look at it for at least 30 seconds before letting the label distract you. Sometimes they're helpful, sometimes not. Either way, look back at the work.
Wander some more. Sit down from time to time and think about…whatever comes to mind.
Repeat until you've had enough.
It's hard not to get caught up in the judgement game (What does it mean? How can they call that art?) but that's a waste of valuable time. Just look for what you love, or what intrigues you, or what shocks you. Go with that feeling. Think about why.
PRACTICE
Here, walk with me through the CMA and I'll show you a few things that I love.
This plate from the 4th century BC always makes me happy. I don't even like fish, but this colorful serving dish is so full of energy it nearly vibrates. Makes me smile inside.
---
A more modern bowl by Cleveland's own Viktor Schrekengost has a similar effect.
---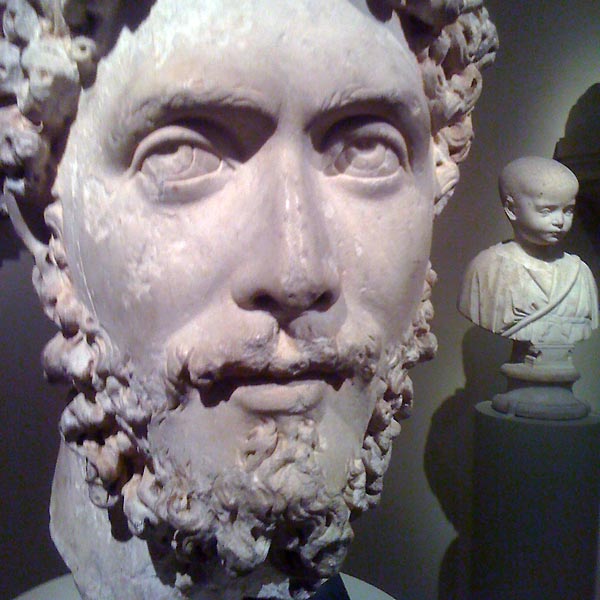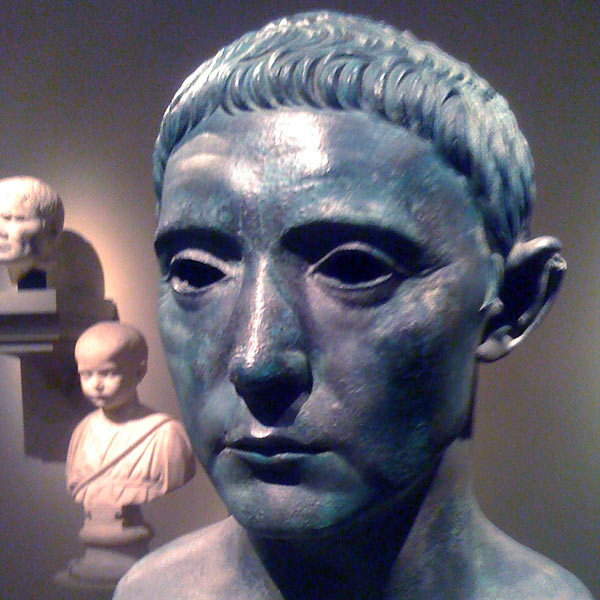 But these guys, they're different. They calm me down. When I go in the gallery I feel like I'm among friends. Very, very old friends.
---
Now to the great outdoors. The storm clouds on the horizon and the light on the fields seem oh-so-Midwestern. I've seen that same light before a storm over Lake Erie thunders in to Cleveland.
---
And finally, I love how the museum brings art and the city together in this beautifully-composed view to the east. Behind a striking glass sculpture, CWRU's Peter Gehry-designed School of Business sparkles against the blue sky.
These things make me happy, or calm, or peaceful. Art can do that for you, too.
You just have to let it.
---